Multi-Mode Blue Blocking Book Light

3 Colour Modes

Rechargeable Battery

Travel Friendly & Portable

Brightness Control
The Multi-Mode blue blocking book light gives you 3 book lights in 1! Designed to effortlessly attach onto books, tablets, e-readers, and even stand-alone to transform into a lamp. Adjustable step brightness levels, low EMF and flicker-free.
read more
NOBLUE AMBER MODE: 100% no blue light sleep-friendly amber light, warm and relaxing candlelight feel, great for early evening.
SUNSET MIXED MODE: Provides a soothing sunset orange light giving the feeling of reading next to a campfire.
TWILIGHT RED MODE: 100% blue and green light free for the most optimal red light to use late at night, or in the middle of the night.

Fast Shipping

30 Night Trial & Easy Returns
Colour Changing Blue light Blocking Book Light
The Multi Mode book light is 3 different book lights in 1! It features our proprietary amber spectrum, red light spectrum, and mixed mode spectrum,  which are all flicker-free, blue light free, and provide you with the best type to suit every occasion.  
The no blue amber mode is perfect to use in the early evening when a greater amount of light is required, the mixed sunset mode provides feeling of reading next to a camp fire and is perfect to use while reading in bed, and finally the twilight red mode is the most optimal light to use right before bed or if needing to get up in the night.
This is the ultimate blue light blocking book light to have on hand. It is lightweight and completely portable and is perfect for traveling, camping, using in the baby's nursery, or utilising anywhere you need some light that is 100% free of any sleep-disturbing blue light. This book light has the perfect type of light to suit everyone.
The gooseneck has a 360-degree flexibility and can be adjusted to the exact position you want. This is especially useful when reading in bed with a partner.
The rubber pad on the clip protects book pages from being damaged and offers secure and stable clamping. The large clip has a flat bottom base to convert it into a table lamp, providing a blue-free light source wherever you need it.
The Multi Mode Colour Changing Book Light has in variable brightness control, allowing you to get the perfect amount of light, and is powered with a rechargeable lithium battery (1200mAh), allowing up to 30 hours of use before needing to be recharged. (on the lowest brightness setting)


Key Features
3 Colour modes

Easily rechargeable
Long battery life
Clips to almost anything
Fully adjustable neck
Variable brightness control
High Quality 100% Blue Light Free Amber / Orange / Red light
Colour temperature: 1200k / 1400k / 1600k
Flicker Free Technology
Low EMF
Rechargeable 1200mAh Lithium Battery
30 Hours at low brightness
Variable Brightness controller
360 Degree Bendable Neck Cord
USB-C Charging Cable included
Sturdy Base Clip with Rubber Mat Grips which converts to a desk/table lamp
28cm Long, Fully Extended
9cm x 8cm When Rolled Up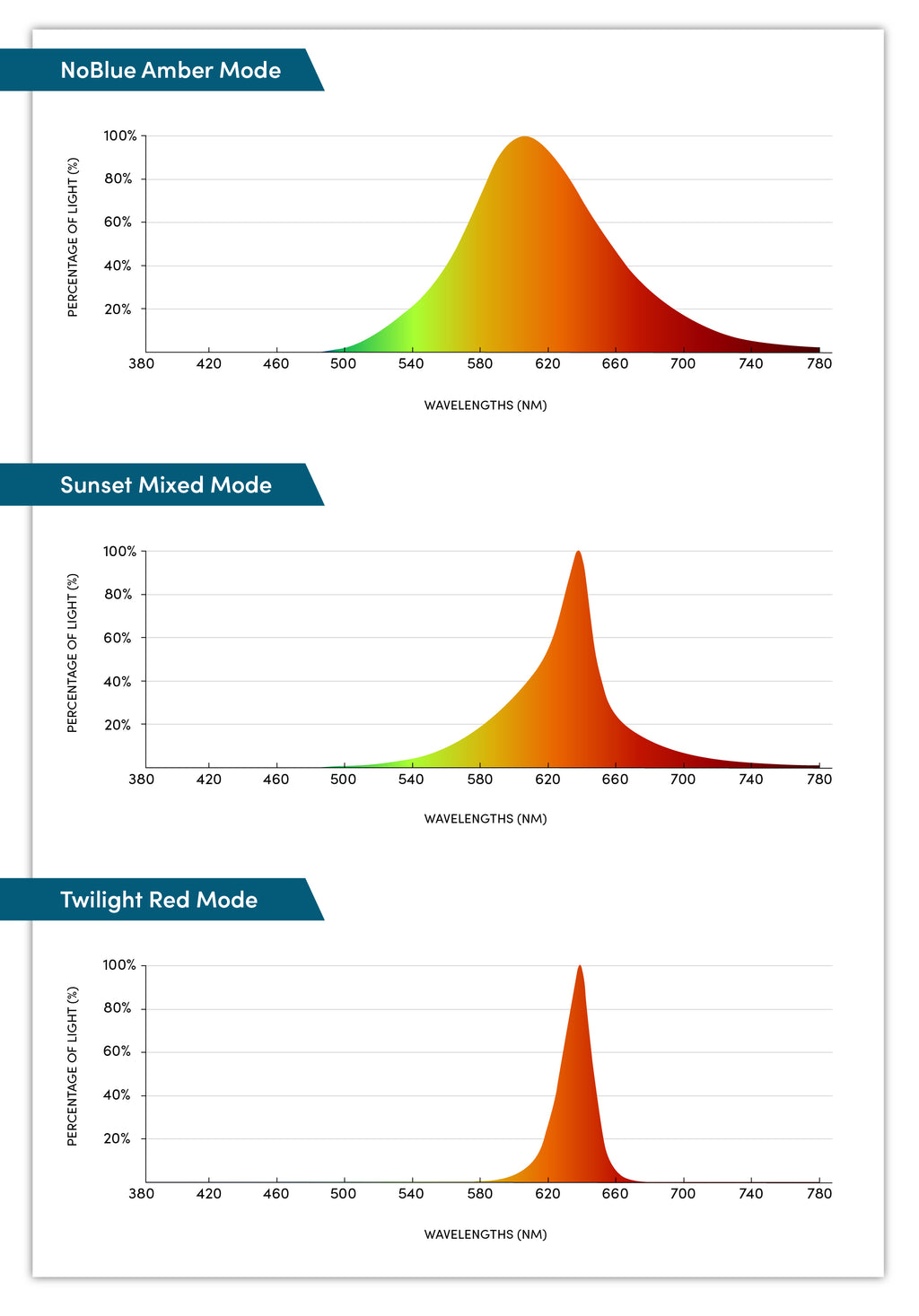 LOVE!!

I use for reading, but found I can also use for other tasks…I clip to my embroidery hoop at night so I can quietly craft while everyone is sleeping. Kinda in love with this little light…

Happy!

The light is so soft I'm certain it's helping my sleep.

Jessica P.

Verified Buyer

Excellent light

Best purchase ever! This tiny light is fantastic. The red glow makes me feel sleepy when I'm reading before bed, and this has really helped with regularising my sleep pattern.

Perfect book light

What's not to love. It's light, pliable and lights my books 🤗

Maneeka Le P.

Verified Buyer

These eyes don't need glasses yet

I already had book light, but not blue light, as I wear Blue light Blick glasses . When my book light died I decided to try this multi mode book light, and went next level in comfort for reading at night and I use sometimes during day, as it makes easier to read , and the warm glow softens the glare if the pages

I love this light

I use the red light in the bathroom when I'm getting ready to go to bed after dark or when I wake up before sunrise. I no longer have to turn on the bathroom lights and disrupt my circadian rhythm. I take it traveling with me too. It's so small and takes up no space.

Great book light

Ideal book light. Very light weight so it even works well on paperbacks, and the light functions are excellent.

Douglas H.

Verified Buyer

I love this light. It's so versatile and portable. It's amazing.

I have been using this light everyday for the past 2 weeks. In the mornings and evenings, I use it as a lamp, torch, book light, and more! No need for a bedside lamp right now.

You can move the cable/cord in any direction you like, and the light stays there without moving, it's great!

Highly recommend the multi-mode version too.

Excellent for travel and home

From Sunset to bedtime this is the best book light!

Stephen N.

Verified Buyer

Great light; wish I had one years ago!

Works just as described.

I can finally read (with a modern non incandescent bulb) after Twilight and close to bedtime with disruption to the natural rise in melatonin levels.

I can actually feel my eyes getting so heavy and tired (much more so than in years previous) after a while and nod off to sleep much quicker.

A top buy.

All the BBL products (6+) I have bought (and used as recommended) have helped me get my extremely bad insomnia medical disorder under control in conjunction with good sleep hygiene, cognitive behavioural therapy (for insomnia) or CBT-i including sticking rigidly to regular getting-up times and bedtimes and no clock-watching during the night.

I literally thank God for BBLs good work and products to help people with health and well-being.
Reviews Loaded
Reviews Added