Twilight Red Plug-in Night Light

Plug-in

Dusk to Dawn Sensor

100% Blue & Green Light Free

Adjustable Brightness
The Twilight Red Plugin Night Light is the ultimate solution for those seeking a restful and peaceful sleep. With its 100% blue and green light-free technology, adjustable dimmer switch, and automatic dusk to dawn sensor, this red night light is a must-have for anyone looking to create a comfortable and relaxing environment in their bedroom.

Fast Shipping

30 Night Trial & Easy Returns
Red Plug In Night Light for Sleep
The perfect solution for anyone who wants to enjoy a peaceful and restful night's sleep without the disruptions caused by artificial blue and green light. This red night light features a dawn-to-dusk sensor and adjustable brightness control, making it versatile and easy to use. Here are five reasons why you'll love this red plugin night light:
Handy for children's bedrooms: Now you can use this red toddler night light without disrupting your child's melatonin production.
Great for use in bathrooms: Take late-night trips to the bathroom without disrupting your sleep from artificial blue light from regular light bulbs.
Ideal for a baby's nursery: The warm, soothing glow of this red night light is perfect for late-night feedings.
Perfect in hallways: Find your way to your bedroom at night without turning on the main lights with this red plugin night light.
100% blue and green light-free: The 630nm pure red light emitted by this red night light is completely free of blue and green light, allowing for a better night's sleep.
This red night light is perfect for anyone who wants to reduce their exposure to artificial blue light at night, whether it's for better sleep or to protect their eyes from strain. It's also great for parents who want to create a peaceful and calming environment for their children. To use this red plugin night light, simply plug it into any outlet and adjust the brightness to your liking. The dawn-to-dusk sensor ensures that it turns on when you need it and off when you don't.
Get your Red Plug In Night Light today and start enjoying a better night's sleep tonight! Don't let artificial blue and green light disrupt your sleep any longer - choose the red night light that's designed to help you rest easy.
Plug Type: North America (two prong)
Power Consumption: 0.63W
Lumens: 5-25
Input Voltage: AC110-240V
Measurements (LxW): 3 ½ in x 1 ¾ in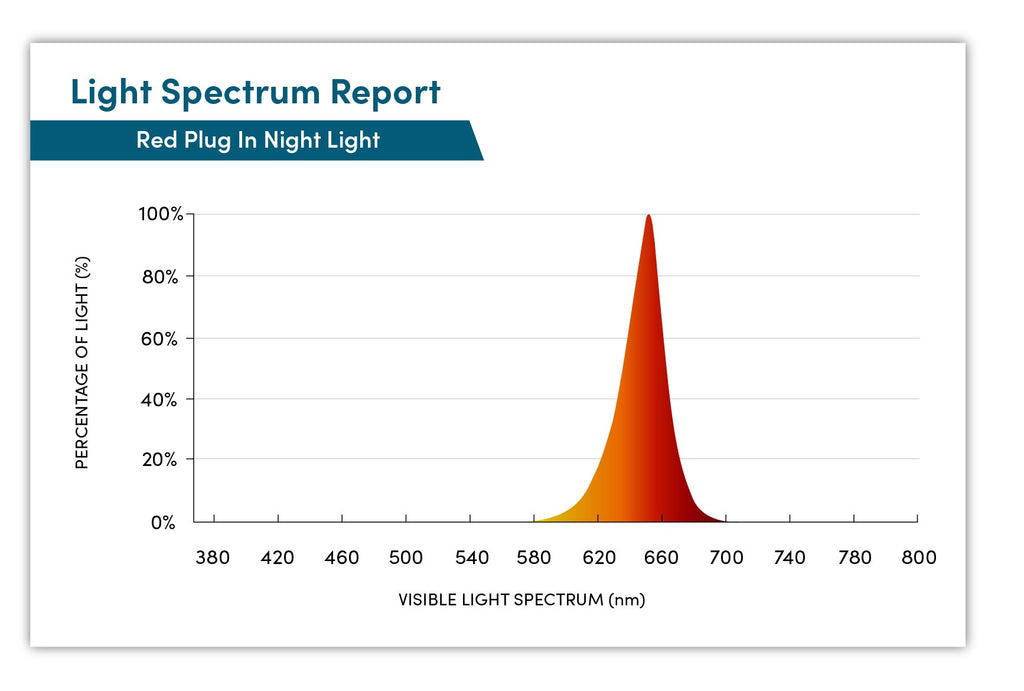 Excellent!

Love this little light. It is perfect in our hallway at night to gently light up our way if we need to get up during the night.

Use it in my ensuite & it has saved my sleep!!!!!!

I use this in my ensuite for nighttime loo trips as I wake up a lot in the night after pregnancy & I can honestly tell that this red light has helped significantly with my ability to stay sleepy & then get back to sleep much faster after I've had to get up!! I used to have to use the blinding ceiling light, then started using just my phone torch, then my phone screen light. Nothing was good enough & it definitely woke me up way too much, until FINALLY I bought this Red Plug In Night Light. I had been eyeing it off for over 2 years, along with a bunch of other Block Bluelight products and wow am I glad I took the plunge! The quality is amazing & it has definitely lived up to my expectations! It has made nighttime so much more pleasant & stress free! Thank you BBL!!!!!!!

L. Moore

Very Good, kept one for myself and one

For a Chrisie stocking present.

I'm happy with product, good night time light. it is the second purchase from your Company. 😀

Perfect

I'm using this in my ensuite bathroom. Its all I need to shower before bed without bright white lights bouncing off the tiles and keeping me awake.

Great for new parents!

This is so handy to have in our bedroom and bathroom, with our newborn baby, I'm constantly up and down overnight with feeding and bathroom trips. These are a great help to light the way and hubby and I have never been able to sleep with other lights on so they are perfect!!

Great for kids

The adults in the house like no light at night. The kids like to be able to see everything when they wake. This is a good compromise as it keeps sleep disturbance to a minimum.

Leonard C.

Verified Buyer

High Quality Nightlight

A High Quality Nightlight. Makes a big difference for me. Much easier on the eyes.

Best Night Light

Fantastic product! After trying several night lights I was a bit sceptical at first, but this is truly a great light for my granchildren to sleep through the night without waking them up.

Katherine G.

Verified Buyer

Best night light ever

Love these night lights. I have 3. Two red and one amber. Will be getting more. They have a super clean look, easy to use, and I love the dimmer. The high settimgvis brght enough to use without having to turn other lights on.
Reviews Loaded
Reviews Added