Original FITOVER Blue Light Blocking Glasses

Blocks 100% Of Blue Light

Improve Sleep

Lower Stress & Anxiety

Lighter Amber Lens
SunDown Blue Light Blocking Glasses block 100% of blue light and are designed for evening use to increase melatonin levels, lower stress levels, and improve sleep quality... read more
Our amber lens is made in an optical lab with the highest visual acuity. This is the ideal option for providing greater colour perception over our red lens, whilst still providing adequate blue light protection.

Free Shipping Over $99

30 Night Trial & Easy Returns
Original Blue Light Blocking Glasses
Our most cost-effective solution to blocking blue light is the Original Blue Light Blocking Glasses. You can get all the benefits for blocking blue light without spending a fortune!
Our SunDown Amber Lens has been specifically designed and proven to block 100% of blue light from 380-500nm and 43% of green light from 500-570nm from electronic devices without distorting your vision.
Be careful, as there are many other "blue blocking" glasses on the market that have not been verified to block all the required blue light wavelengths, which is essential in order for these glasses to be effective and provide adequate night-time protection!
OrginalAmber Lens: 100% of blue light harmful blue light is blocked (400nm - 500nm)
Lighter Amber tint allows more color perception at night
Specifically designed to help you sleep by blocking harmful blue light that lowers melatonin levels
Use after sunset when you are exposed to artificial light, to enjoy improved quality of sleep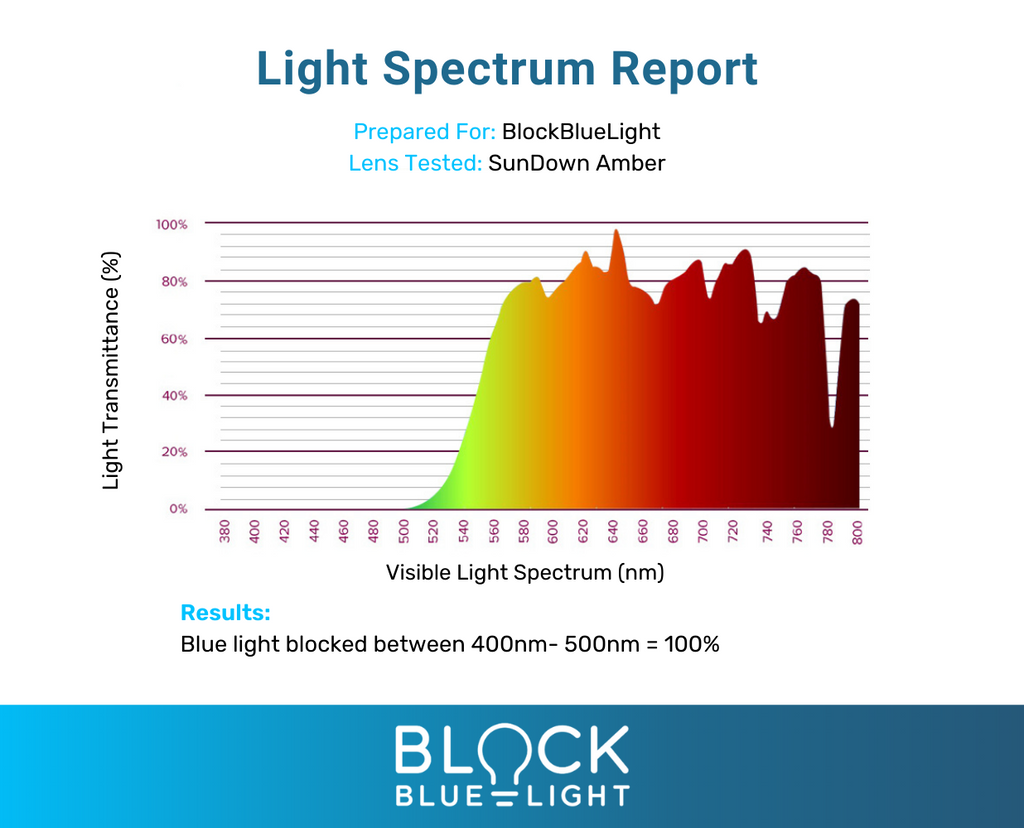 Fitover Blue Light Blocking Glasses

I quite like them as they help block blue light before I go to bed. I don't have to worry about the blue light from the TV affecting my sleep as I do tend to watch a little TV before bed. It does make things look a little darker at night but it's all about winding down before one goes to bed so it's fine.

Worked well

These worked as described to improve my alignment to a natural cicadium rhythm ie tired sooner, so to bed earlier. I have experienced a better quality of sleep since using them, so feel more refreshed in the mornings.

Great

They actually work! Falling asleep much faster and easily.

Amazed!

I have suffered problems with getting to sleep for longer than I can remember. Prior to getting these glasses and the red globe, I'd never bother trying to go to bed before 1am, because I just wouldn't sleep. Now I can go to bed at a decent time, between 10-11pm and get to sleep within 20 mins of going to bed. I'm truly amazed.

MC

Perfect for computer use

I spend long hours working in front of a computer monitor. Since I've been wearing these glasses, my eyes don't hurt like they used to. I still take a short break from my computer every 30 minutes, but before I got these glasses, short breaks didn't work as well and my eyes pain used to increase throughout the day. This is the best purchase I've made in a long time.

They do the job

They do the job they were bought for, which is nighttime computer work and reading in bed before going to sleep. Although they are fitover glasses, I only need glasses for distance so they are used on thir own. They allow me to see clearly and I have been gettin better sleep since using them, Their performance has encouraged me to but a daytime pair of BlockBlueLight glasses.

Husband wears them to watch TV.

For my husband, who wears glasses all the time, we tried the clip-on ones first. They did not work well for him because he has a narrow nose bridge. These do the trick, however, he says he won't wear them for computer use because they are too weighty.

What a find!

This has helped so much with my wind down to bed. Didn't think it would make a difference but it has. They fit over my glasses and are pretty comfortable.

Very happy

Daniel and Angela are very knowledgeable, helpful. Parcel arrived beautifully packed in substantial paper. I noticed something changed in me as soon as I put them on. They calmed my eyes. Over next few days I noticed they calmed my whole body too. I've now changed my routine by having my evening shower earlier then immediately on with the glasses. Along with the red light book lamp these glasses have eliminated decades of insomnia within weeks. This is an honest Australian business that I can't recommend highly enough

Love it

It is an excellent investment, I can protect my eyes while wearing my progressive lenses at night.
Reviews Loaded
Reviews Added