Original Blue Light Blocking Glasses

Blocks 100% Of Blue Light

Improve Sleep

Lower Stress & Anxiety

Lighter Amber Lens
SunDown Blue Light Blocking Glasses block 100% of blue light and are designed for evening use to increase melatonin levels, lower stress levels, and improve sleep quality... read more
Our amber lens is made in an optical lab with the highest visual acuity. This is the ideal option for providing greater colour perception over our red lens, whilst still providing adequate blue light protection.

Free Shipping Over $99

30 Night Trial & Easy Returns
Original Blue Light Blocking Glasses
Our most cost-effective solution to blocking blue light is the Original Blue Light Blocking Glasses. You can get all the benefits for blocking blue light without spending a fortune!
Our SunDown Amber Lens has been specifically designed and proven to block 100% of blue light from 380-500nm and 43% of green light from 500-570nm from electronic devices without distorting your vision.
Be careful, as there are many other "blue blocking" glasses on the market that have not been verified to block all the required blue light wavelengths, which is essential in order for these glasses to be effective and provide adequate night-time protection!
OrginalAmber Lens: 100% of blue light harmful blue light is blocked (400nm - 500nm)
Lighter Amber tint allows more color perception at night
Specifically designed to help you sleep by blocking harmful blue light that lowers melatonin levels
Use after sunset when you are exposed to artificial light, to enjoy improved quality of sleep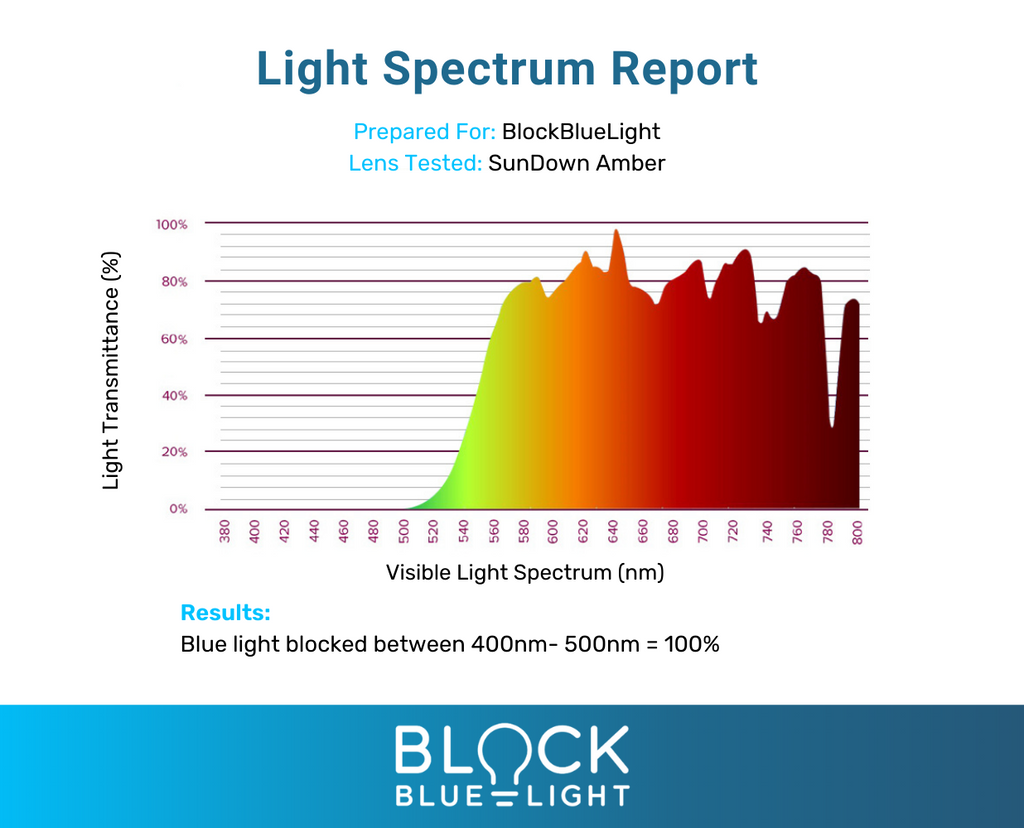 great

great whilst not laying in bed watching a movie, but not bad in this case at all, just needing to get used to wearing glasses whilst laying in bed lol. Great great great glasses as such

Game changer

Started using these as soon as I received them and you do realize how tired your body is.

I usually work at late hours and the glasses definitely help me sleep sooner.

I totally recommend to those with jumpy legs

Late night cinephile

Don't usually write reviews, especially after such early use but the benefits are so noticeable. Really makes you realise how tired you actually are when you wear these. And how that bluelight on your phone or TV tricks your brain in to not feeling tired.

I brought these after learning about the benefits of bluelight glasses and these really lived up to what I read, especially with sleep. Brilliant if you're a late night cinephile.

Great quality

Great quality glasses. I prefer using these over the blue light blocking app on my phone. Definitely noticed I get sleepy alot faster if I am wearing these. I will definitely be purchasing more products from this company in the future. These glasses were recommended to me by a naturapath.

Works a treat

Totally happy with these glasses, sleeping like a baby and waking refreshed.

Nice product

Nice product. I like the color. They didn't fit over my glasses as well as I had hoped.

Does the Job

I wear these glasses at night. My sleep is a lot deeper than it was before and I have more energy when I wake up in the morning.

Excellent product!

I bought one for myself and one for my partner. Very good quality and definitely feel the difference. We sleep much better and no more headaches. Highly recommend!

Best blue light blockers!

These are definitely my favorite blue light blockers that i've had. I have used a few different ones from various companies over the past several years but the original blue light blocker has been the best all around. Not only does it block a wider range of blue light frequency that the other ones that I have owned, but it is also much more comfortable and fits me just right. Highly recommend!

Original

They work, easier on eyes for sure if you can get used to color change on screens. I'd rather do that then have a headache.
Reviews Loaded
Reviews Added