ScreenTime Billie Computer Glasses - Tortoise

Less Headaches & Eye Fatigue

Reduce Digital Eye Strain

Minimal Colour Distortion

Filters 50% Of Blue Light
ScreenTime Blue Light Glasses combine sleek style with science backed blue light protection. They feature our unique anti-glare lenses for crystal clear vision and minimal colour distortion... read more
The transparency of the optical grade lenses lets in the good blue light responsible for alertness, mood, brain activity and optimal health, whilst filtering out the harmful damaging blue light that leads to digital eyestrain, headaches, and macular degeneration.

Free Shipping Over $99

30 Day Trial & Easy Returns
Blue Light Filter Daytime Computer Glasses
Our ScreenTime Premium Daytime Filter Glasses are specifically designed for those spending significant periods of time during the day in front of screens. They feature our specialised ClearBlue Lenses, designed to filter out harmful, artificial blue light emitted by digital devices and all other artificial light sources.
These blue light glasses for computer use filter 50% of blue light across the entire blue light spectrum (400nm-500nm) to alleviate digital eye strain, sore and tired eyes, headaches/migraines, and blurred vision from both screen time and bright LED or fluorescent lighting in the workplace.
What sets our computer glasses apart from all the other computer glasses on the market is our ClearBlue Lens technology; this filters 50% of blue light at 455 nanometers, which is the most energetic, damaging light emitted from screens, LED's, and other modern artificial lighting. Most other companies supplying clear blue blocking glasses only block 15%-20% of blue light from 400-430nm and do not block any at the 455nm range where it matters the most.
To ensure you have both day AND night protection, we recommend you also use a set of our Night-time Blue Light Blocking Glasses during night-time to ensure deep and restful sleep.
Filters 50% of harmful artificial blue light across the entire blue light spectrum
Premium frame made from high quality, lightweight acetate with durable spring hinges.
ClearBlue lens - providing crystal clear vision without any colour distortion
Stops headaches and migraines, blurred vision, eye strain, and minimises risk of macular degeneration
Smudge proof and water, scratch, and dust resistant.
Minimises blue light impact on your circadian rhythm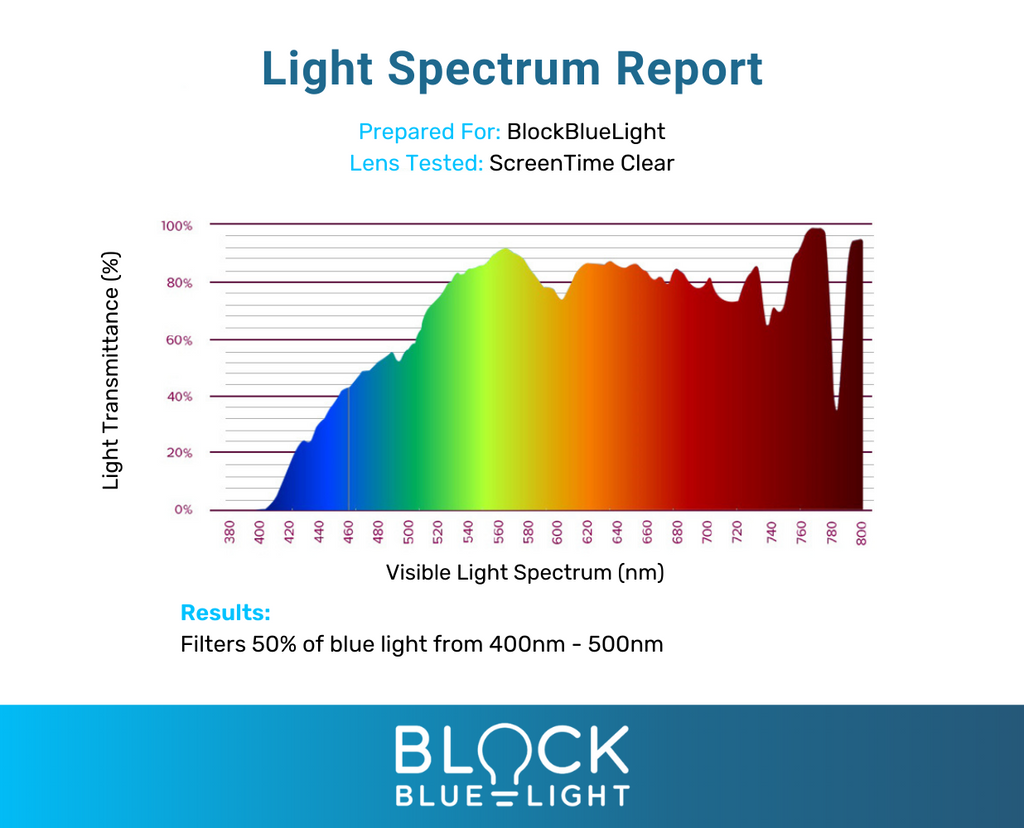 VR

Indispensabili per le giornate al computer

Lavoro come grafica in un'agenzia di marketing e comunicazione in Italia e cercavo un paio di occhiali che potesse attenuare *davvero* l'enorme quantità di luce blu a cui sono sottoposta ogni giorno.

Sto usando da mesi gli ScreenTime al lavoro e mi sto trovando benissimo! Sono di design, qualità e non alterano i colori a monitor (cosa per me essenziale visto il mio lavoro!)

Super consigliati!!

No more tired eyes!

I noticed a difference the first day I wore these for computer work - less strain, less red eye! There's a slight yellowish tint to the lenses, particularly in bright/florescent lighting - but I just tell people they're blocking out the evil :)

Recommending these to everyone I know.

Blueblock have been a gamechanger.

I spend over 50 hours per week in artificial light and reading from screens. Since wearing these I have noticed less fatigue and eye strain - which in turn has significantly improved my focus.

The frames are sturdy but stylish.

I'm considering getting a pair or the red tint for the times I have to attend to work at night.

Love them

Super comfortable and work perfectly for long days in front of the computer

Great design and comfortable

I'm glad I chose this color. It's great for working behind my computer and still be able to design and see the right colors. It's exactly what I expected from it.

Review Screentime Billie Computer Glasses

I purchased the Screentime Bille Computer Glasses - they are amazing and just make your eyes relax as soon as you put them on.

Love them :)

Love my blue blocker glasses

Very stylish, comfortable and noticeably reduce eye strain after a long day in front of the screen

Sexy and useful

These glasses have been a lifesaver for my eyes. I work in a dark club with lots of coloured lights and a computer screen for the till, so much eye strain! These little beauties have reduced the strain on my eyes so much and I get so many compliments on them it's not funny! Apparently they make me hotter, too!🤣

Love, Love, Love These Glasses!

I ordered both these and the nighttime glasses and I feel the same about both. Wouldn't hesitate to order from them again.

Great glasses!

Really good glasses and are perfect when working in front of the screen the whole day. Look very fancy and are perfect to wear out.
Reviews Loaded
Reviews Added