NightFall Wrap Blue Blocking Glasses

Blocks Blue & Green Light

Maximise Sleep Quality

Aligns With Academic Studies

Most Optimal Night-time Glasses
NightFall Blue Blocking Glasses feature our signature blue AND green light blocking red lens. These are the most optimal blue light blocking glasses available for optimising sleep and balancing hormones... read more
Our optical grade red lenses block 100% of blue and green light from 400nm to 550nm. This is the exact range that has been shown in clinical trials to lower melatonin and negatively impact our sleep.

Free Shipping Over $99

30 Night Trial & Easy Returns
NightFall Premium Blue Light Blocking Glasses
These are the world's most advanced blue and green light blocking with true red lenses designed for after dark use. They block 100% of blue and green light from 400-550nm, making them the most powerful glasses on the market.
NightFall Premium Blue Light Blocking Glasses are true to their purpose using a dark and stylish frame that has a wrap-around fit to minimise leakage of unfiltered light. Plus, they feature high-quality padding on the inside to ensure a comfortable fit.
Lightweight & True To Purpose, Dark & Stylish Frame
Nocturnal Red Lenses utilise unique technology to filter out all wavelengths that interfere with melatonin production, maximising your sleep quality, performance, and health.
These blue light blocking glasses are made for people who are serious about improving their sleep and want the best possible product to do the job! It's true that you can use these to read, watch TV, or work on your computer, tablet, or phone without having to commit to living in the dark, these glasses let you use technolgy but mitiagte the harmful effects of them. Plus, your sleep hormones can shift to night mode to ensure a deep and restful sleep.
If you wear reading or prescription glasses, we offer our NightFall FitOver Glasses that allow you to continue wearing your glasses and still obtain maximum blue and green light protection.
Noctural 550 Ren Lens: 100% of blue and green light from 400nm - 550nm is blocked
Premium style frames
Impact and scratch resistant
Foldable carry case and lens cloth included
Specifically designed to help you sleep by blocking harmful blue and green light that lowers melatonin levels
Use after sunset when you are exposed to artificial light, to enjoy improved quality of sleep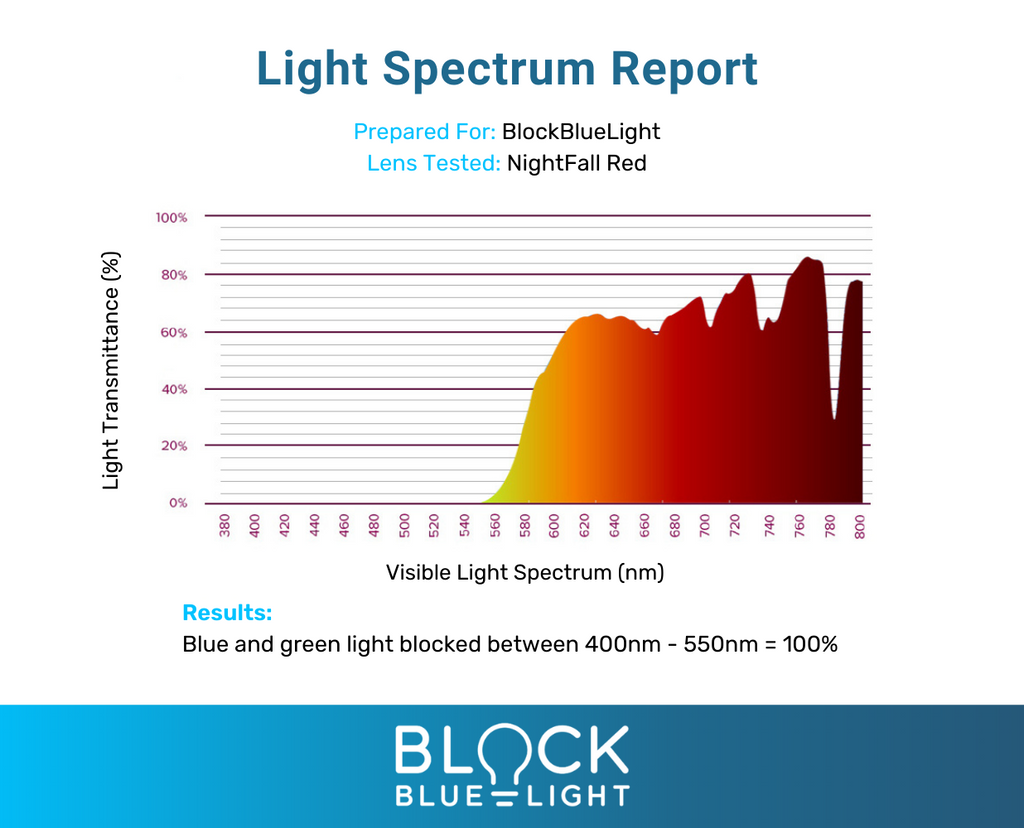 NightFall V gd

They have definitely helped along with improving other sleep hygiene behaviours. They also helped when I had an attack of shimmering eyes. Very pleased I purchased them . Robyn

So glad I brought these

I held off on buying these for so long because they are expensive but I'm so glad I finally did. I've been using these for a few weeks now and I'm so happy that I brought them. My sleep quality has improved and I have less headaches now. Also I no longer need melatonin to fall asleep.

Deeper Sleep

Definitely noticed falling asleep is easier when wearing them an hour or so while reading my kindle prior to bed.

Does what it says on the tin!

Do just as they say. Excellent for blocking blue light, I feel much less eye strain when I use them at night vs don't. Perfectly comfortable and the wrap around ensure no light gets in. Would recommend

So pleased

I already have the fit-over vertion which is excellant for reading. As I can see the TV fine, I felt I needed a pair that sealed a bit better. I am so glad I bought them both and use them in combination, as required.

I wear them from around 7:00 PM unless on night shift. I have experimented when home from work at 05:30 AM and they also work fine for a day sleep using a mask and ear plugs. Good products from good people.

comfortable, relaxing

These help me to relax and wind down of an evening ready to sleep. I like that they stop peripheral light as well as from the front. Nice comfortable fit

Help me sleep.

Great for the last hour before bedtime. TV's fine (though inevitably when watching TV, blue skies become green!) I certainly seem to sleep better since using them.

Very good

Fits comfortably which was a pleasant surprise. I've tried other blue blocking glasses, this pair is by far the best. The colour of the orange/red feels better on my eyes, nice travel case and the cleaning kit is really handy too. Overall great product and good investment for your eyes.

NightFall Wrap Blue Blocking Glasses

It helps me to fall asleep sooner and to sleep better, I use it to watch TV and for all my electronics at night.

Perfect for working nights

I work 2-10:30, then take the bus home. It's so nice to have these on while the sun goes down and all those harsh lights are screaming in my face. I sleep really well, whats more I can't even remember the last time I slept poorly. If you're on the fence about these take my word for it, this is money well spent.
Reviews Loaded
Reviews Added