SunDown Clip-on Blue Blocking Glasses

Blocks 100% Of Blue Light

Improve Sleep

Lower Stress & Anxiety

Lighter Amber Lens
SunDown Blue Light Blocking Glasses block 100% of blue light and are designed for evening use to increase melatonin levels, lower stress levels, and improve sleep quality... read more
Our amber lens is made in an optical lab with the highest visual acuity. This is the ideal option for providing greater colour perception over our red lens, whilst still providing adequate blue light protection.

Free Shipping Over $99

30 Night Trial & Easy Returns
Our scientifically-designed-and-manufactured blue light blocking glasses not only all block blue light but make you look good while doing it!
The SunDown Amber Lens has been specifically designed and proven to block 100% of blue from 400-500nm. Using the SunDown Amber lenses provides the perfect balance of a lighter amber tint allowing more visual colour perception, while still remaining effective at blocking 100% of harmful blue light.
These glasses are perfect for use in the early evening when blue light protection is required but greater colour perception is preferred.
For Maximum Night-time protection, use our NightFall Red Lens range; These Blue and Green Light Blocking Glasses block 100% of blue AND green light up to 550nm.
SunDown Amber Lens: 100% of blue light harmful blue light is blocked (400nm - 500nm)
Lighter Amber tint allows more color perception at night
Specifically designed to help you sleep by blocking harmful blue light that lowers melatonin levels
Use after sunset when you are exposed to artificial light, to enjoy improved quality of sleep
Premium acetate frames made with stainless steel spring hinges
Premium carry case and lens cloth included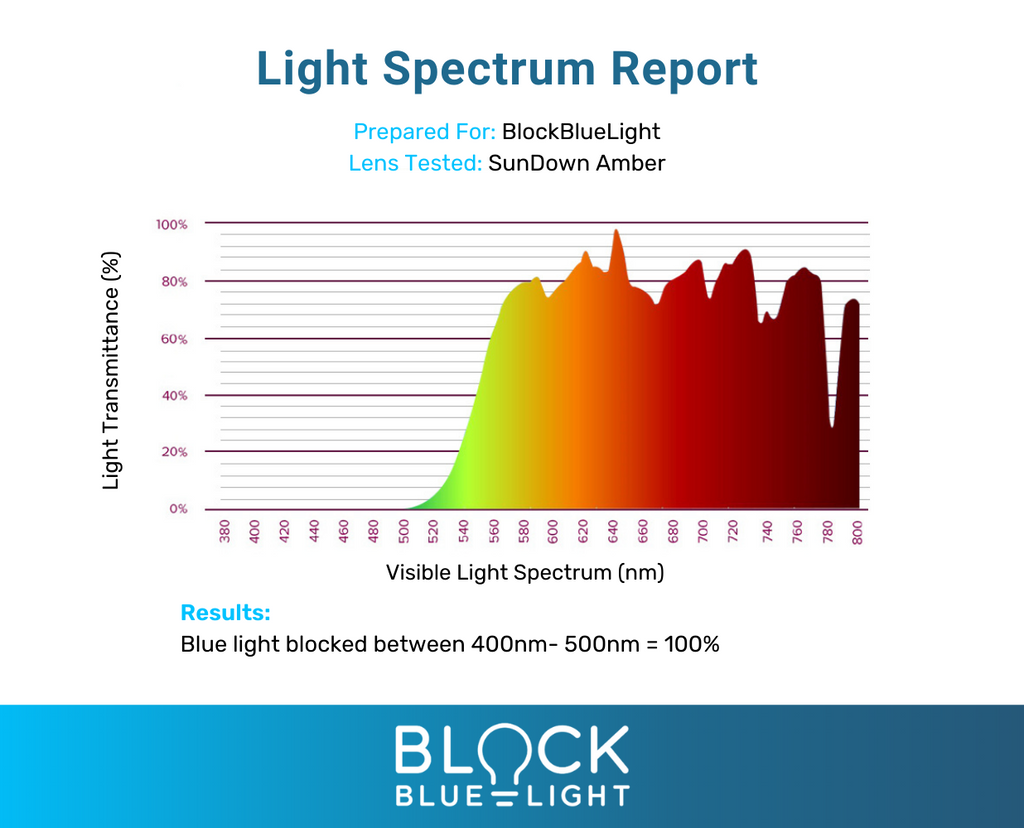 Definitely good investment

I can confidently say that these glasses have significantly enhanced my quality of sleep. I typically wear them for 1 to 2 hours prior to bedtime. After about a month of consistent use, I have noticed that I do not wake up as frequently throughout the night, and my sleep is much deeper and more restful. I also say that if I need to get up during the night, I am able to return to sleep more easily, as I feel naturally drowsy with the glasses on. Previously, it took me a considerable amount of time to fall asleep again due to my early morning wake-up schedule (I used to have to wake up at 3 am).

These glasses are lightweight and fit comfortably over my glasses. Though I have previously tried other brands, I can confidently say that these glasses are superior in their ability to improve my sleep quality. Overall, I am extremely satisfied with my purchase and consider it a wise investment in my overall health and wellbeing.

Great Product!

You can tell the difference of less eye strain wearing these... things look brighter and clearer, but yet not having to squint as much resulting in less headaches. Glad we found these!!

Good glasses for late afternoon very early evening

Helpful in making the transition at end-of-day to limit Blue Light effects on eye fatigue, damage and sleep effects.

Sundown

They work, easier on eyes for sure if you can get used to color change on screens. I'd rather do that then have a headache.

What I needed

I use them at night and my sleep has noticeably improved

AD

Definitely improves sleep

I have been using these for a week now and have found that they definitely improve the quality of my sleep. I wear them for about an hour before going to bed. Originally I had the darker pair, the Night Fall clip-ons, but found them to be too dark. These are perfect. Unfortunately they aren't quite large enough to cover my RayBan glasses but they still seem to work well.

Great glasses

The glasses arrive promptly and have been great assisting with blue light at night when using my iPad and mobile phone and assists with my sleeping.

Improved Eye Comfort and Sleep

I use these after sundown and almost immediately have noticed improved sleep (fall asleep quickly and stay asleep longer). Eye pain and inflammation (red, puffy, blurry) have gone, and brain fog has cleared gradually over a couple of weeks. I'm very happy to have made this investment for my eye and brain health. I'm also expecting the immune and metabolic benefits of improved sleep quality to follow. I purchased day lenses as well, and have two pairs of glasses, one for day lenses, and one for night. This ensures consistency of protection.

Wonderfu

They are great I wear them all the time when I am driving

Clip on Sundown Blue Blocking Glasses

I can't believe how wonderful they are at blocking the bright light on the phone and computer screens. Very relaxing and soothing for the eyes.
Reviews Loaded
Reviews Added