Original FITOVER Blue Light Blocking Glasses

Blocks 100% Of Blue Light

Improve Sleep

Lower Stress & Anxiety

Lighter Amber Lens
SunDown Blue Light Blocking Glasses block 100% of blue light and are designed for evening use to increase melatonin levels, lower stress levels, and improve sleep quality... read more
Our amber lens is made in an optical lab with the highest visual acuity. This is the ideal option for providing greater colour perception over our red lens, whilst still providing adequate blue light protection.

Fast Shipping

30 Night Trial & Easy Returns
Original Blue Light Blocking Glasses
Our most cost-effective solution to blocking blue light is the Original Blue Light Blocking Glasses. You can get all the benefits for blocking blue light without spending a fortune!
Our SunDown Amber Lens has been specifically designed and proven to block 100% of blue light from 380-500nm and 43% of green light from 500-570nm from electronic devices without distorting your vision.
Be careful, as there are many other "blue blocking" glasses on the market that have not been verified to block all the required blue light wavelengths, which is essential in order for these glasses to be effective and provide adequate night-time protection!
OrginalAmber Lens: 100% of blue light harmful blue light is blocked (400nm - 500nm)
Lighter Amber tint allows more color perception at night
Specifically designed to help you sleep by blocking harmful blue light that lowers melatonin levels
Use after sunset when you are exposed to artificial light, to enjoy improved quality of sleep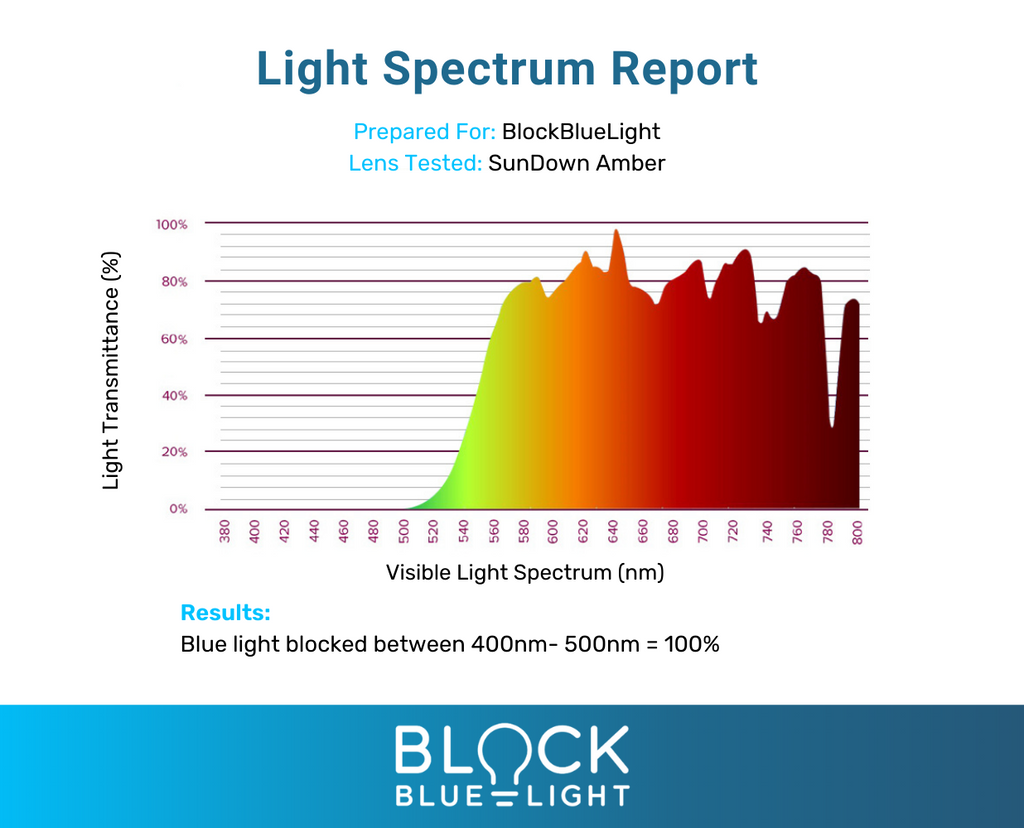 Using for almost a year now.

I never go a night without them, have made all the difference to my sleep. Can use my phone, watch TV at night without throwing my sleep cycle out. They're robust enough that I don't hesitate to wear them in bed (makes phone before sleep do-able, though i also turn on warm screen tone to be safe). They're awesome when I have to drive at night too, stops oncoming LED headlights from giving eye strain & headaches. Plus they're the most comfortable glasses/shields that I own. Love them. Get some, you won't regret it!

ÅJ

Easy to use, helpful

They are really easy to use, i find my sleep is better after using them in front of a screen compared to when I didn't hsve them.

WOULD NEVER HAVE BELIEVED

almost IMMEDIATELY my sleep HAS IMPROVED...whodathunk ?

THANK YOU

Charles R.

Verified Buyer

Excellent w/One Small Issue

I wavered for a while between 4 and 5 stars and upfront I'll just say these absolutely deserve all 5 for aspects of light and eye protection, which is the most important thing. I'd go with 4 in other areas which I'll do my best to detail below.

I don't wear glasses, my sight has always been fairly good, but I struggle in terms of extreme fatigue and pain, plus I need all the preventative care I can get seeing as glaucoma and legal blindness are real things in my family. I also experience things like strain, dizziness, and nausea from any screen scrolling (what I've heard referred to as cyber-sickness). All that said, I eat well, do things like acupuncture when it's financially possible, and daily just do tons of facial and muscle massage and tapping - all helpful. But computers have been hell for me; I can barely use them anymore and also struggle to look at my phone. So if you're experiencing any of this, my take is - these genuinely help!! They really do bring some relief; I find myself putting them on midday just to feel a "break." The obvious color change (a very vibrant yellow-ish tint becoming your world) means I must pull them on/off a lot to distinguish color - which isn't always loved but of course that's the trade off - and my eyes always feel quite good putting them back on.

As for cost and style, I can't complain about cost which I'd guess is fair based on the product, but nonetheless, still, for me, this style was my only option. Other styles were prohibitive,…

Fit well, comfortable

I'm happy to have blue blocking glasses that fit very well over my eyeglasses. They fully cover the lenses as well as the sides. They feel lightweight and are comfortable. I'm quite pleased.

Shirley R.

Verified Buyer

Love it

I really like the fit. I was really leery about paying this kind of money for claims of blue blocking. But after 5 eye surgeries I bought the red light for reading at night (you'd never guess it would work too read at night but red) and then followed it up with these. I'm going to try the daylight blue blocking ones next. I'm obsessed.

So Calming!

I really love the effect of these glasses. The only reason I put 4 instead of five stars is because the side arms are a bit tight and press into my temple. I am a small person so I think they must be a bit small for most people. Would be nice to have them of a softer material or maybe adjustable?

But I love how much they block all the blue light. Both my daughter and my grandchildren like the "aahhh" they feel when they put them on. I feel sheltered and protected in them. The colored light they bathe you in is very calming yet I can see clearly and without distortion. I was teased mercilessly of course, because they look ridiculous but it's worth it. I also notice I am falling asleep faster at night even though I did use prescription Blue-blocking glasses previously. I now understand those were not nearly as strong as these are.

Blue light blocking overfit glasses

Although they are very large and made my husband laugh 🤣 they certainly block out the bright light, making me feel more sleepy. I even wear them when I have my bath in the evening, due to the light being very bright in the bathroom.

Great product!

I bought this for my hubby. I bought one before from another company but I was not able to locate the company to buy a replacement. My hubby said this brand is better. He felt like it was clearer to see through it. Great fit and feel.

Michaela De L.

Verified Buyer

Very good product. My favourite! Love it!

I am very happy with my new product. I always wear it every nights before sleep. I like orange beautiful colour. I will plan to buy another new one again in near future soon. I love it so much. That is my favourite. I love two new blue light blocking glasses. Amazing products. Thank you so much.
Reviews Loaded
Reviews Added