NoBlue Amber Book Light

100% Blue Light Free

Rechargeable Battery

Travel Friendly & Portable

Improve Sleep Quality
The NoBlue Book Light is a rechargeable amber book light that is 100% blue light free. It is designed to clip perfectly to books, notepads, e-readers, or virtually anything with an edge!
read more

This light gives you a warm and relaxing evening experience completely free of any sleep-disturbing light. Featuring an integrated rechargeable battery for up to 20 hours runtime, 3 brightness settings, flicker free technology, and low EMF.

Free Shipping Over $99

30 Night Trial & Easy Returns
Amber Book Light
The NoBlue light features our proprietary amber spectrum, which is flicker-free, gives off a warm and relaxing candlelight feel, that is 100% free of any blue light.
The has a 360-degree flexibility and can be adjusted to the exact position you want. This is especially useful when reading in bed with a partner.
This is the ultimate blue free light to have on hand. It is lightweight and completely portable and is perfect for traveling, camping, using in the baby's nursery, or utilizing anywhere you need some light that is 100% free of any sleep-disturbing blue light.
The rubber pad on the clip protects book pages from being damaged and offers secure and stable clamping. The large clip has a flat bottom base to convert it into a table lamp, providing a blue-free light source wherever you need it.
With three brightness settings of 25%, 50% and 100%, the NoBlue Book Light allows for an easily adjusted variable brightness of 20, 40 and 80 lumens.
Fully Rechargeable—This book light is powered with a rechargeable lithium battery (1200mAh) that allows up to 8 hours of use before needing to be recharged.
High Quality 100% Blue Light Free Amber Light
Flicker Free Technology
Rechargeable 1200mAh Lithium Battery
up to 30 Hours at 25% brightness
Adjustable Brightness Levels of 20, 40 and 80 lumens
360 Degree Bendable Neck Cord
Micro USB Charging Cable included
Sturdy Base Clip with Rubber Mat Grips which converts to a desk/table lamp
28cm Long, Fully Extended
9cm x 8cm When Rolled Up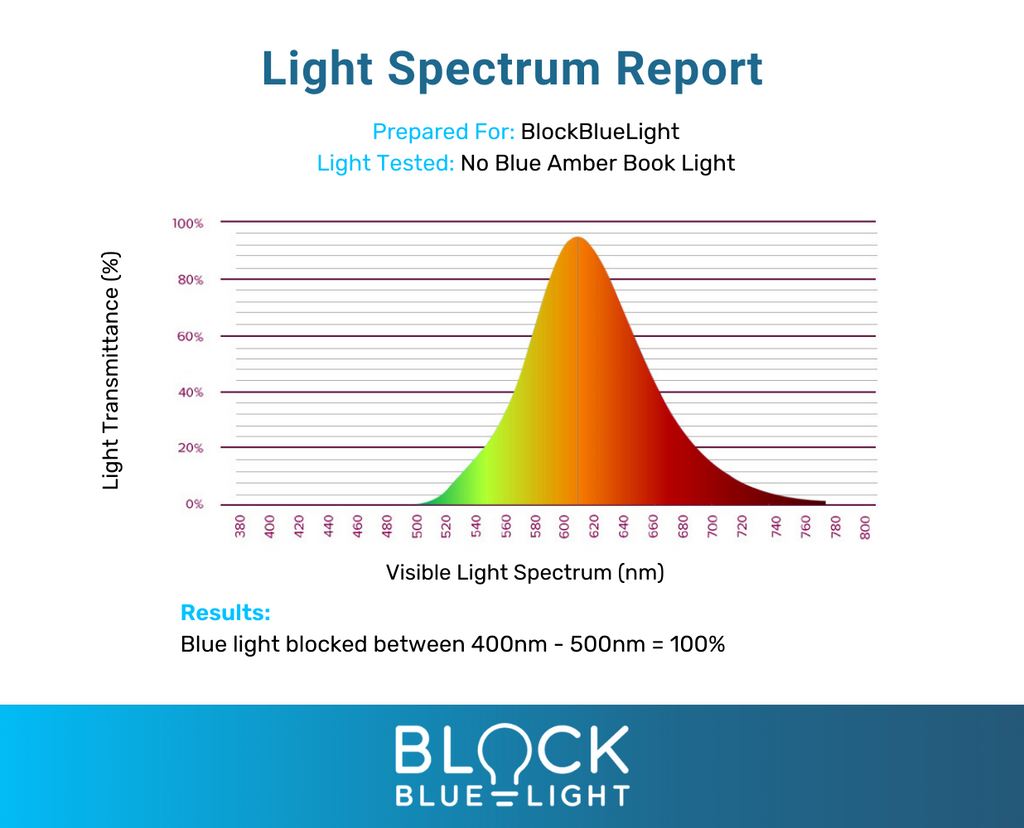 Best book light ever!

My daughter and I love our book lights. They are compact, lightweight and give the nicest light for reading that won't affect our sleep.

Great for camping or to take anywhere.

Home or caravan!

So versatile. We use it in our caravan (have 3 now so the kids have a better light than the standard caravan blue light) and at home it's so handy dealing with kids as it clips everywhere. Dimmable feature is excellent.

Book light

When clipped onto a book it gives good light coverage to both pages - I love it

Excellent for night reading!

I'm really trying to cut out blue light in the evening and this book lamp hits the mark. It provides the perfect amount of amber light to read with. Also impressed with how well made the lamp is.

Great

Very handful, easy to use

Travelling companion

It means it is so easy to have the health comforts of no-blue light while travelling

I use this regularly

This is my second purchase, because I gave the first one away to a friend. I use it during the night when I wake up. I use it to read, but also I use it sometimes to just light my path to the restroom. It's enough light, but not disruptive.

Love it

I love to read a bit before going to sleep and have found that the book light has really made a difference to .y sleep. Instead of reading and being unable to put the book down I find that my reading time has become more relaxing and I find my eyes starting to drop and then I am asleep much sooner than previously

Bought it for my son :)

I bought the lamp for my 7 year old son who has trouble falling asleep. I definitely helps him with winding down before bed time and story time. If he wants to read a bit in bed, I don't mind now, because I now that the light won't interfere with him getting tired. It really makes a difference.

Love it!

I love it. It's small and compact. I can easily take it with me when travelling. Easy to clip onto anything.

I love reading and it is great to know that I can now read at night without worrying about blue light effecting my sleep.
Reviews Loaded
Reviews Added