Kids NightFall Blue Blocking Glasses - Crystal

Blocks Blue & Green Light

Maximise Sleep Quality

Aligns With Academic Studies

Most Optimal Night-time Glasses
NightFall Blue Blocking Glasses feature our signature blue AND green light blocking red lens. These are the most optimal blue light blocking glasses available for optimising sleep and balancing hormones... read more
Our optical grade red lenses block 100% of blue and green light from 400nm to 550nm. This is the exact range that has been shown in clinical trials to lower melatonin and negatively impact our sleep.

Free Shipping Over $99

30 Night Trial & Easy Returns
Blue AND Green Light Blocking Glasses
Our scientifically-designed-and-manufactured blue and green light blocking glasses not only block blue light but make you look good while doing it!
Featuring our custom-designed Noctural Red 550 Lens, these glasses have been specifically designed and proven to block 100% of blue and green light from 380-550nm.  This is the exact range of blue and green light shown in scientific studies and trials to lower melatonin levels and lower sleep quality.
Its Not Just Blue...Its Also Green...
Green light is right next to blue light on the visible colour spectrum, this means that the "melatonin disruption zone" also extends into the green light range. Green light up to 550nm at night can also send daytime signals to the brain. For optimal night-time protection we need to remove 100% of blue AND green light up to 550nm.
Be careful, as there are many other "blue blocking" glasses on the market that have not been verified to block all the required blue and green light wavelengths which is essential for these glasses to be effective and provide adequate night-time protection!
NightFall glasses use the world's most advanced blue and green light blocking lenses designed for after-dark use, making them much more effective at reducing the harmful effects of blue and green light and improving your sleep.
Noctural 550 Ren Lens: 100% of blue and green light from 400nm - 550nm is blocked
Premium style fashionable frames made with spring hinges
Impact and scratch resistant
Foldable carry case and lens cloth included
Specifically designed to help you sleep by blocking harmful blue and green light that lowers melatonin levels
Use after sunset when you are exposed to artificial light, to enjoy improved quality of sleep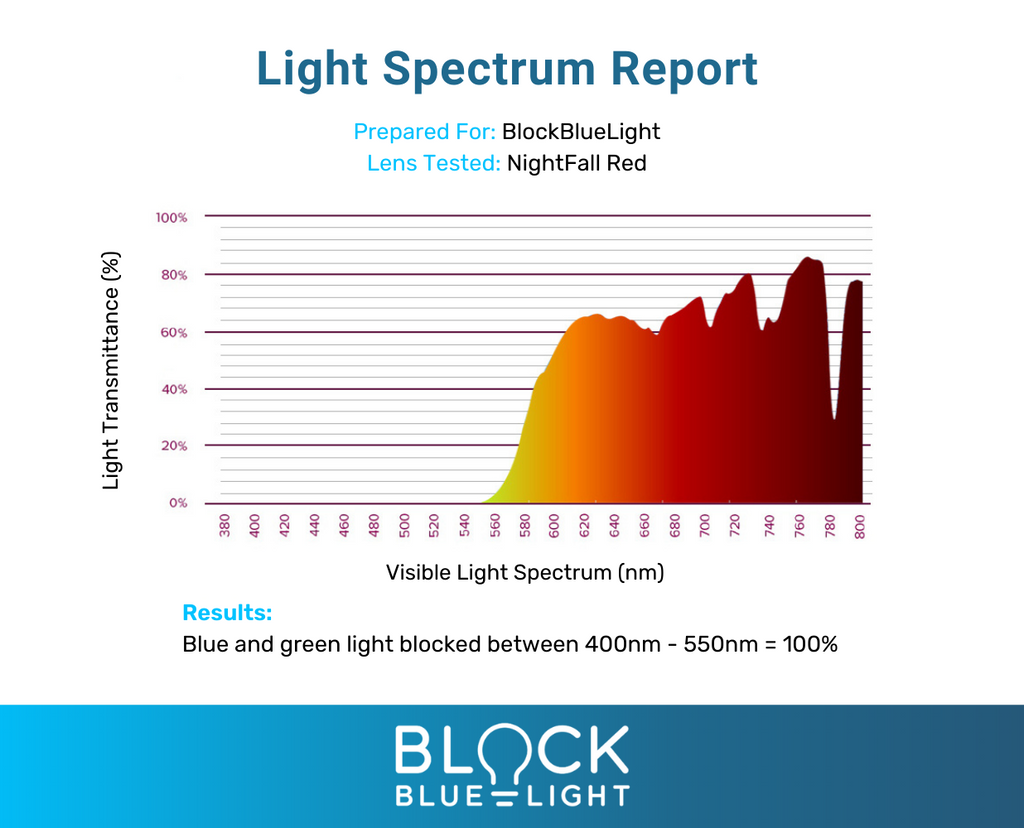 Kids nighttime blue blockers

Beyond AMAZING! My 12 year old son (youngest of 3) likes to go to bed past 9pm. He will fight to stay up as late as possible. Since wearing his glasses he puts himself to bed at 8:30.. I'm so thrilled with my purchase, couldn't be happier.

Best glasses!

I have been dealing with insomnia and waking up in the middle of the night. These glasses have changed my life! Not only do i fall asleep faster and don't wake up in-the middle of the night. I don't know what I'd do without these glasses.

Kids nightfall blocking glasses

Nice looking comfortable glasses that fit my narrow face well....I can even wear them over the top of my prescription glasses. I hope they, along with the blue blocking light globe installed in the bedroom, help my bad sleeping habit

Kids Night Fall Wrap Blue Blocking Glasses.

A lot of differences in my kid's sleep cycle, He sleeps much better now.

Brilliant

Any child who uses a device, who is also neuro-divergent, these do work in speeding up melatonin production. Not immediately but definitely works. Great to assist those who are reliant on medication to sleep. Improve your sleep hygiene and improve your life expectancy!!!

Excellent product!

Excellent! Fits my small face :)

Jen E.

Kids nightfall glass - pink

My daughter loves these. Helps settle her down at night if watching a movie before bed and I notice last two nights slept better. Day three today see what happens tonight! Hopefully no more sneaking into mums room.

Thanks Uncle Dan!

DIMITRINA S.

Verified Buyer

Amazing purchase. So soft on the eyes,My little one loves them

Very comfortable and soft. They hold well.
Reviews Loaded
Reviews Added