ScreenTime Taylor Computer Glasses -Black

Less Headaches & Eye Fatigue

Reduce Digital Eye Strain

Minimal Colour Distortion

Filters 50% Of Blue Light
ScreenTime Blue Light Glasses combine sleek style with science backed blue light protection. They feature our unique anti-glare lenses for crystal clear vision and minimal colour distortion... read more
The transparency of the optical grade lenses lets in the good blue light responsible for alertness, mood, brain activity and optimal health, whilst filtering out the harmful damaging blue light that leads to digital eyestrain, headaches, and macular degeneration.

Fast Shipping

30 Day Trial & Easy Returns
Blue Light Filter Daytime Computer Glasses
Our ScreenTime Premium Daytime Filter Glasses are specifically designed for those spending significant periods of time during the day in front of screens. They feature our specialised ClearBlue Lenses, designed to filter out harmful, artificial blue light emitted by digital devices and all other artificial light sources.
These blue light glasses for computer use filter 50% of blue light across the entire blue light spectrum (400nm-500nm) to alleviate digital eye strain, sore and tired eyes, headaches/migraines, and blurred vision from both screen time and bright LED or fluorescent lighting in the workplace.
What sets our computer glasses apart from all the other computer glasses on the market is our ClearBlue Lens technology; this filters 50% of blue light at 455 nanometers, which is the most energetic, damaging light emitted from screens, LED's, and other modern artificial lighting. Most other companies supplying clear blue blocking glasses only block 15%-20% of blue light from 400-430nm and do not block any at the 455nm range where it matters the most.
To ensure you have both day AND night protection, we recommend you also use a set of our Night-time Blue Light Blocking Glasses during night-time to ensure deep and restful sleep.
Filters 50% of harmful artificial blue light across the entire blue light spectrum
Premium frame made from high quality, lightweight acetate with durable spring hinges.
ClearBlue lens - providing crystal clear vision without any colour distortion
Stops headaches and migraines, blurred vision, eye strain, and minimises risk of macular degeneration
Smudge proof and water, scratch, and dust resistant.
Minimises blue light impact on your circadian rhythm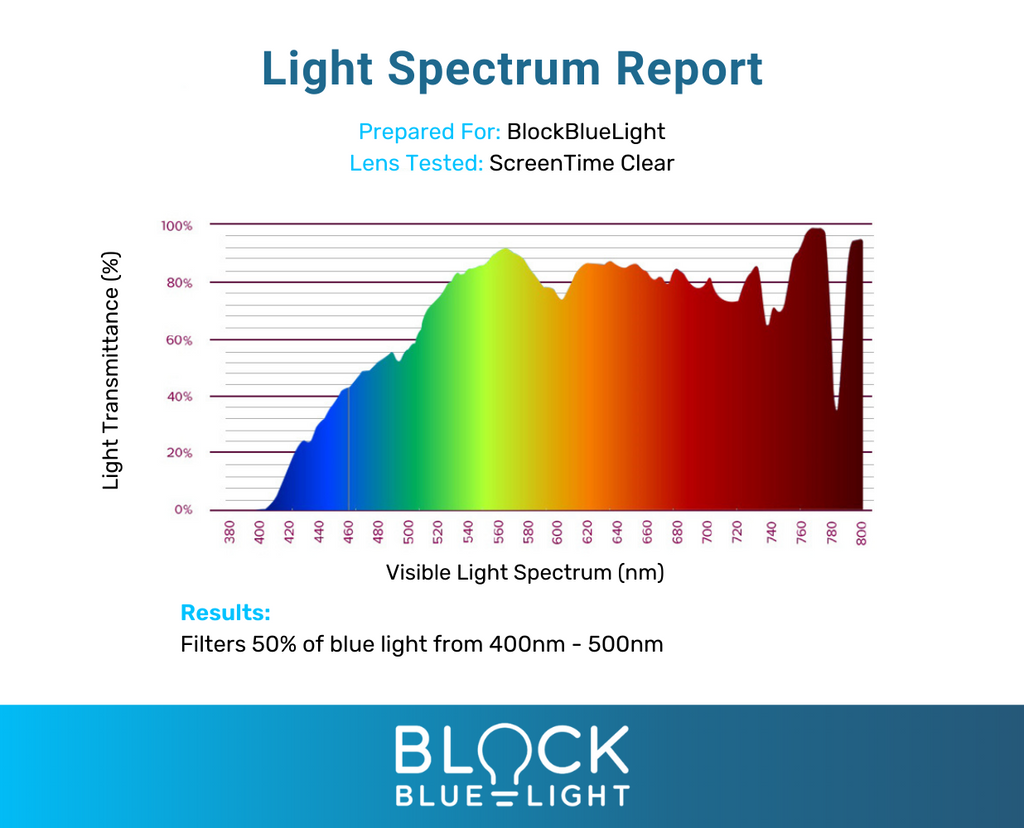 . .five star review

Excellent, pleasantly surprised, they seem to be really helping. They are lightweight,yet well made. I am definitely happy with this purchase.

Excellent

These glasses are great. Highly recommend. I can log straight off my work computer and go to sleep 😴

Ease eye strain

Bought these for husband with magnification 2.5 excellent quality and husband found screen time on both iPhone and iPad easier his eyes .no eye strain or headache .Will be purchasing some for myself at later date

Work glasses reduce eye strain

I spend most of my work day in front of a screen so I decided to try the computer glasses. I was surprised when I'd been wearing them for an hour or two and took them off to see just how BLUE my screen looks without them! I feel they do lessen my mental fatigue. A few of the people at work have asked me about them and tried then on. Although I've only had then a couple of weeks I already prefer to be wearing them when at the computer.

Marilyn L.

Verified Buyer

Amazing

Wear these every day I think they really work

I even use them in places with fluresent lighting and helps my eyes not get so tired feeling

Only thing is I wasn't expecting them to be yellow tinted but maybe that's the whole part of them being blue light glasses

No more extreme tiredness

I love my "computer glasses", I notice less eye restraining and less exhaustion!

I couldn't/wouldn't want to work without them anymore!

Matthew F.

Verified Buyer

GREAT

Ever since I started wearing these sceentime glasses for computer work it has been so much easier on my eyes. Overall, no complaints, nothing but praise!

Michael B.

Verified Buyer

Screen time Taylor Computer Glasses - Black

Excellent quality.More to the point they actually work.Bought particularly to counteract the effects of atrocious overhead lighting in the gym.Lighting all strip lighting and LED type bulbs…everywhere.

Experienced retina halos (since examined and ok) due to prolonged exposure to above lighting.

Since wearing the blue light glasses problem solved…..

Happy with my purchase

Really happy with my purchase, I will look at ordering more for the day time and for my niece (who loves to game) Thank you 🙏

Legit!

I work in a hospital and they have really helped me stay focused and more relaxed throughout the workday by protecting me from the harsh blue lights I work under!
Reviews Loaded
Reviews Added