NightFall Wayfarer Blue Blocking Glasses - Pearl Grey

Blocks Blue & Green Light

Maximise Sleep Quality

Aligns With Academic Studies

Most Optimal Night-time Glasses
NightFall Blue Blocking Glasses feature our signature blue AND green light blocking red lens. These are the most optimal blue light blocking glasses available for optimising sleep and balancing hormones... read more
Our optical grade red lenses block 100% of blue and green light from 400nm to 550nm. This is the exact range that has been shown in clinical trials to lower melatonin and negatively impact our sleep.

Free Shipping Over $99

30 Night Trial & Easy Returns
Blue AND Green Light Blocking Glasses
Our scientifically-designed-and-manufactured blue and green light blocking glasses not only block blue light but make you look good while doing it!
Featuring our custom-designed Noctural Red 550 Lens, these glasses have been specifically designed and proven to block 100% of blue and green light from 380-550nm.  This is the exact range of blue and green light shown in scientific studies and trials to lower melatonin levels and lower sleep quality.
Its Not Just Blue...Its Also Green...
Green light is right next to blue light on the visible colour spectrum, this means that the "melatonin disruption zone" also extends into the green light range. Green light up to 550nm at night can also send daytime signals to the brain. For optimal night-time protection we need to remove 100% of blue AND green light up to 550nm.
Be careful, as there are many other "blue blocking" glasses on the market that have not been verified to block all the required blue and green light wavelengths which is essential for these glasses to be effective and provide adequate night-time protection!
NightFall glasses use the world's most advanced blue and green light blocking lenses designed for after-dark use, making them much more effective at reducing the harmful effects of blue and green light and improving your sleep.
Noctural 550 Ren Lens: 100% of blue and green light from 400nm - 550nm is blocked
Premium style fashionable frames made with spring hinges
Impact and scratch resistant
Foldable carry case and lens cloth included
Specifically designed to help you sleep by blocking harmful blue and green light that lowers melatonin levels
Use after sunset when you are exposed to artificial light, to enjoy improved quality of sleep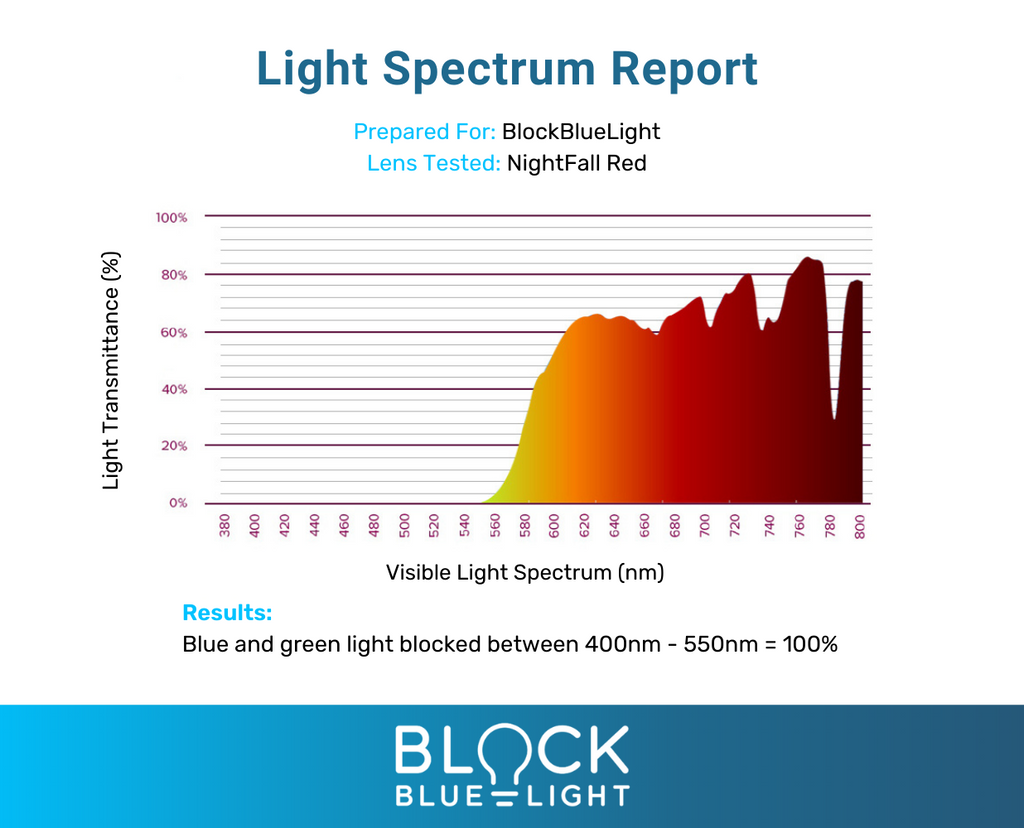 Five stars

I've been wearing other brands of Blue Light Blocker glasses for years, but when my mischievous puppies chewed them up, I was forced to make a decision about which brand of Blue Light Blocker glasses I should purchase next. I could have stuck with the old brand of Blue Light Blocker glasses, however, I wanted to update my look. The NightFall Wayfarer Blue Blocking Glasses in Pearl Grey that I ended up purchasing, are in all honesty, THE BEST by a Mile Blue Light Blocker glasses I have ever had. Practical, fashionable and exactly what I wanted. Based on my first positive experience and finally sleeping a full 8 hours instead of 5, two weeks later, I made a second purchase ordering the Day Time Blue Light Blocker glasses. Yay.

Sleepy Joe

My husband is asleep within 30 minutes of putting them on.

Miracle glasses

These glasses are strong and sturdy and they look amazing on. I call them my miracle glasses. 15 years of suffering insomnia, I have tried medication and just recently also tried CBD oil, nothing worked for me. I also have bipolar disorder and my brain would not stop thinking especially at night. No medication would help with my overthinking brain, until now. These glasses worked the first night I slept so peacefully and my brain actually shut off. I have been wearing my glasses for a month and I can honestly say that my insomnia has been cured and I no longer have a overthinking brain. My mother has suffered insomnia for 25 years and she is also wearing the glasses her insomnia has also been cured. I would highly recommend you try these glasses if you suffer insomnia. My true miracle glasses 🙏🙏🙏🙏🙏🙏

Love my nightfall glasses

I love my block blue light glasses. Solid, look good & help me get into sleep mode.

Really protective of eyes! Highly recommended!

Really impressed with how much blue light is blocked and my eyes stop getting strained and dry. Quality glasses.

Sleeping

I absolutely love wearing my nightfall glasses. The quality of the glasses are amazing. The first night wearing the glasses I slept so well. I have suffered insomnia for 15 years have tried everything possible nothing worked. These glasses have changed my life for the better. I fall asleep easily and I stay asleep until the next morning. My brain would not stop thinking and now my brain shuts off and I sleep so soundly and peacefully. I am totally amazed that a pair of blocking glasses can make you sleep so well. I also purchased the light bulbs and my mother also purchased the nightfall glasses as well. My mother suffered insomnia for 25 years and she fell asleep and stayed asleep the first night she wore them. I would highly recommend this product and this amazing company to everyone who suffers insomnia. It really has changed my life. Thank you so very much. 5 stars is not enough I give it 1000 star rating.

The Real Deal

I bought these on the recommendation of a friend who has bought from this company before, and I was not disappointed. I work at a computer all day and sometimes get migraines, which can take hours to resolve and be debilitating. I got a minor migraine shortly after these arrived in the mail, I put them on, and it held the migraine at bay and actually allowed me to still go outside and be social with friends (unthinkable otherwise). I've since bought a daytime pair as well (you can see both in the attached picture) and worn them a fair bit (including as I type this). I wish I'd had these years ago, but better late than never! It's also nice because now I don't have to have the blue light filter on my computer maxed out (orange screen). I definitely recommend these to other people, it's worth the investment.

Wayfarer Pearl Grey

Really nice looking pair of glasses, and really comfy to wear.

Would suit any fashion colors with it's neutral tone.

Blue block glasses

Very happy with these glasses, make a huge difference to eliminate artificial blue light and therefore helps me sleep better

Nightfall blue light blockers

My blue light blockers are great, I have noticed a change in my sleep. I now sleep better and deeper, very happy.
Reviews Loaded
Reviews Added