ScreenTime Wayfarer Computer Glasses - Crystal

Less Headaches & Eye Fatigue

Reduce Digital Eye Strain

Minimal Colour Distortion

Filters 50% Of Blue Light
ScreenTime Blue Light Glasses combine sleek style with science backed blue light protection. They feature our unique anti-glare lenses for crystal clear vision and minimal colour distortion... read more
The transparency of the optical grade lenses lets in the good blue light responsible for alertness, mood, brain activity and optimal health, whilst filtering out the harmful damaging blue light that leads to digital eyestrain, headaches, and macular degeneration.

Free Shipping Over $99

30 Day Trial & Easy Returns
Blue Light Filter Daytime Computer Glasses
Our ScreenTime Premium Daytime Filter Glasses are specifically designed for those spending significant periods of time during the day in front of screens. They feature our specialised ClearBlue Lenses, designed to filter out harmful, artificial blue light emitted by digital devices and all other artificial light sources.
These blue light glasses for computer use filter 50% of blue light across the entire blue light spectrum (400nm-500nm) to alleviate digital eye strain, sore and tired eyes, headaches/migraines, and blurred vision from both screen time and bright LED or fluorescent lighting in the workplace.
What sets our computer glasses apart from all the other computer glasses on the market is our ClearBlue Lens technology; this filters 50% of blue light at 455 nanometers, which is the most energetic, damaging light emitted from screens, LED's, and other modern artificial lighting. Most other companies supplying clear blue blocking glasses only block 15%-20% of blue light from 400-430nm and do not block any at the 455nm range where it matters the most.
To ensure you have both day AND night protection, we recommend you also use a set of our Night-time Blue Light Blocking Glasses during night-time to ensure deep and restful sleep.
Filters 50% of harmful artificial blue light across the entire blue light spectrum
Premium frame made from high quality, lightweight acetate with durable spring hinges.
ClearBlue lens - providing crystal clear vision without any colour distortion
Stops headaches and migraines, blurred vision, eye strain, and minimises risk of macular degeneration
Smudge proof and water, scratch, and dust resistant.
Minimises blue light impact on your circadian rhythm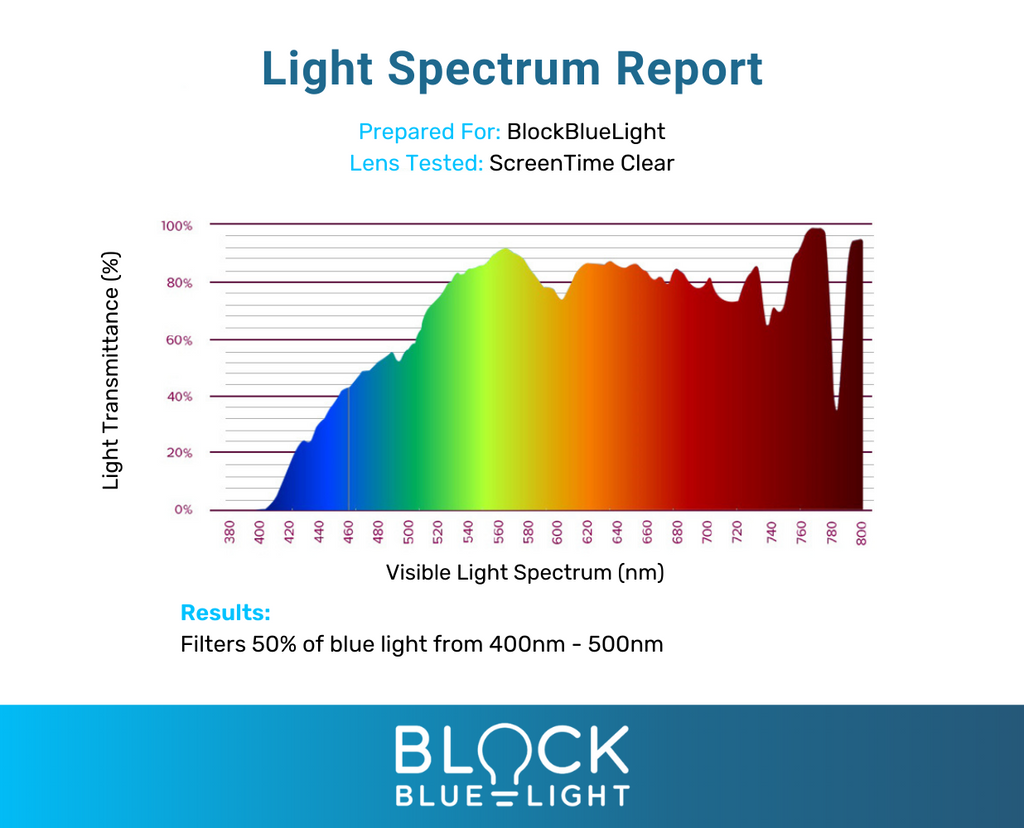 Goodbye eye strain

I own two pairs of wayfarers - the more yellow tinted ones and this pair. I alternate depending on how sensitive I'm feeling. Both are fabulous and have made a difference to how I feel during/after work. My eyes aren't sore anymore, I don't get headaches, I experience less brain fog. I was skeptical to start with, but am now a proud blue light blocking glasses girl!

Reduced digital eye strain after the very first wear!

I'm loving my computer glasses! They're comfortable to wear and I already notice a huge difference in reducing digital eye strain after just a few hours of wear! Highly recommend.

Seem to work!

Haven't had a headache since wearing them

AM

Love them

They are very beautiful and comfortable to wear and easy on the eyes .

Screentime

Wife loves these, she's on computer most of the day, gave it a try and says she doesn't get as tired now, plus they look prety good. Good quality too. We got different ones to try and they all work for different purposes. At the minimum I'd get these rated at %50 we use them at night too, doesn't block as much as colored ones but doesn't change color either. If I would to only buy one pair I'd get these.

Perfect to protect your eyes

I use them all the time if working with my laptop or tablet and I feel my eyes so much more relax and less tired after a day of work. So worth the money!

So cool

Only had them for two days but already noticed how much better my eyes are by the end of the day with all the computer work I've been doing. Bonus is that I'm told I look so cool! Seriously though I am impressed with the quality of the product and the service and so glad my eye surgeon Professor recommended them to me.

Ideal glasses

These glasses suit my face shape, are a practical colour, stop my eyes from hurting when staring at the computer screen, and are nice professional glasses. Well worth the money - thanks very much!

Very helpful for sore eyes

I had sore eyes I thought was solely due to fatigue but these glasses have helped a lot, even though I don't spend that much time on the computer. Screen time adds up easily. I highly recommend them.

Computer Glasses

These glasses have made a significant difference to my working day. I used to get headaches a lot as my job is complete computer based. I have been wearing these for a month now and no longer get headaches and, combined with the night time glasses, my quality of sleep has also dramatically improved. Highly recommend for those with computer based jobs!
Reviews Loaded
Reviews Added