DayMax Taylor Glasses - Tortoise

Maximum Daytime Protection

Assists With Light Sensitivity

Reduce Migraines & Headaches

Reduce Eye Fatigue
DayMax Glasses provide MAXIMUM protection against blue light during the day by eliminating 100% of the harmful blue light emitted from screens, devices, and lighting, while still allowing all the essential beneficial light though responsible for positive mood, energy, and focus... read more
The DayMax light yellow lenses are ideal for people who are light sensitive, suffer from migraines and eye strain, or are indoors under harsh lighting and use screens and devices all day.

Free Shipping Over $99

30 Day Trial & Easy Returns
Our DayMax Blue Light Glasses are specifically designed for those having significant exposure to artificial blue light during the day, they feature our specialised light yellow lenses which provide maximum blue light protection, while still helping you maintain your energy and focus when you need to feel and perform your best.
The light yellow DayMax lenses filter 70% of blue light across the entire blue light spectrum (400nm-500nm), providing maximum protection to eliminate light sensitivity, migraines, eye strain, sore and tired eyes, headaches/migraines from both screen time and bright LED or fluorescent lighting in the home/workplace.
The DayMax lens uses propriety filtering technology to block 100% of blue light in the lower range of 400 - 455 nanometers; this is the most energetic and damaging light emitted from screens and lighting. More importantly it still allows all the beneficial blue light through still which is in the later part of the spectrum from 455-500nm, this blue light is essential during the day for optimal hormone production, energy, positive mood, and motivation. 
To ensure you have both day AND night protection, we recommend you also use a set of our Night-time Blue Light Blocking Glasses during night-time to ensure deep and restful sleep.
Filters 70% of harmful artificial blue light across the entire blue light spectrum
Blocks 100% of harmful blue light from 400-455nm, then allows all beneficial blue light through from 455nm-500nm
Premium frame made from high quality, lightweight acetate with durable spring hinges.
DayMax light yellow lens - made with optical grade CR-39 to provide highest visual acuity
Stops headaches and migraines, blurred vision, eye strain, and minimises risk of macular degeneration
Daytime lens designed to provide maximum blue light protection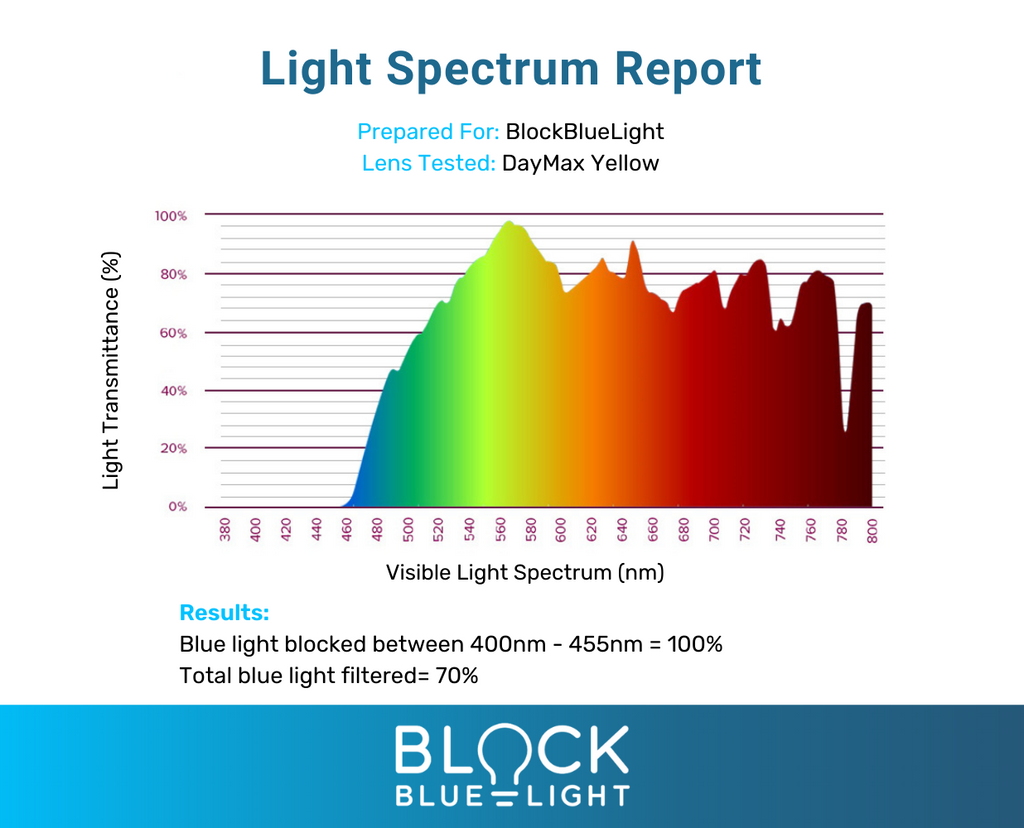 good blue light blocker but not a great nose fit

can see a difference not needing to use eye drops as frequently as before and my eyes aren't blasted at the end of the day. the yellow tint isn't that strong and text actually appears clearer compared to without them. needs frequent cleaning however.

downside is the nose fitting isn't the best so will need to buy some nose pads.

Helpful

These are nice quality frames. I ordered magnification to high so I think that is why there hasn't been any improvement in eye strain etc

Happy customer

They are so comfortable, light and the lenses are super clear and make everything look better.

I've bought many cheap glasses in the past that were all terrible, these are exceptional and I will definitely buy more for the rest of the family.

DayMax Glasses

Love these. I spend all day on my computer at work, and now I know I'm helping to protect my eyes.

Love these!

Best daytime blue blockers and stylish to boot. Now I need to buy a pair for night time!

No more drag at the end of the work day

I purchased these to wear at my desk job because I noticed my eyesight has declined and my energy level/concentration wanes in the afternoon. Since wearing them, I have had energy to get through the whole day and noticed I do not like looking at screens without them now. People at work have noticed and now there's a request for the company to cover blue light protection glasses for everyone.

Great gift idea

Got it as a gift who is happily using it.

Daylight Glass Reviw

I'm really satisfied with this glass. The frame is confortable even for all day usage, and its stiff enought as far as I can tell.

The glass itself is magic, I'm pretty impressed how much better my eyes feel during daytime and long (10-14) hours multiple monitor usage.

I can confidently tell that my sleep is significantly improved with the usage of this glass and the other red-light source products that I bought here!

Brilliant pair of glasses

Fantastic pair of glasses! Great fit and look

Really saves your eyes in the late afternoon when looking at the computer screen

These Daymax glasses eliminated my eye fatigue and inflammation.

I love my new glasses from Block Blue Light. I spend hours a day behind a computer which caused eye fatigue and red inflamed eyes. Since I started wearing these glasses those problems have been eliminated. The frames and lenses are high quality so I highly recommend Block Blue Light glasses!
Reviews Loaded
Reviews Added