SunDown ELITE Blue Blocking Glasses

Blocks 100% Of Blue Light

Improve Sleep

Lower Stress & Anxiety

Lighter Amber Lens
SunDown Blue Light Blocking Glasses block 100% of blue light and are designed for evening use to increase melatonin levels, lower stress levels, and improve sleep quality... read more
Our amber lens is made in an optical lab with the highest visual acuity. This is the ideal option for providing greater colour perception over our red lens, whilst still providing adequate blue light protection.

Fast Shipping

30 Night Trial & Easy Returns
Our scientifically-designed-and-manufactured blue light blocking glasses not only all block blue light but make you look good while doing it!
The SunDown Amber Lens has been specifically designed and proven to block 100% of blue from 400-500nm. Using the SunDown Amber lenses provides the perfect balance of a lighter amber tint allowing more visual colour perception, while still remaining effective at blocking 100% of harmful blue light.
These glasses are perfect for use in the early evening when blue light protection is required but greater colour perception is preferred.
For Maximum Night-time protection, use our NightFall Red Lens range; These Blue and Green Light Blocking Glasses block 100% of blue AND green light up to 550nm.
SunDown Amber Lens: 100% of blue light harmful blue light is blocked (400nm - 500nm)
Lighter Amber tint allows more color perception at night
Specifically designed to help you sleep by blocking harmful blue light that lowers melatonin levels
Use after sunset when you are exposed to artificial light, to enjoy improved quality of sleep
Premium acetate frames made with stainless steel spring hinges
Premium carry case and lens cloth included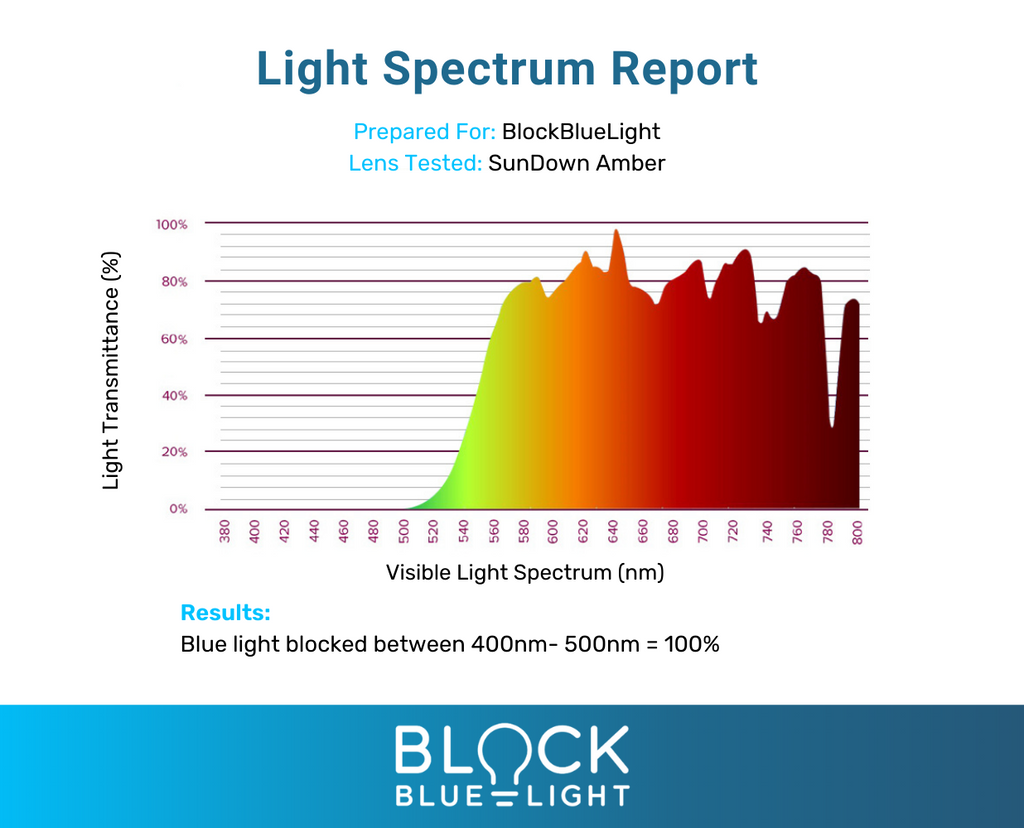 No more headaches

Purchased a selection of glasses - for night time and for computer work - amazing. Comfortable, light, effective and ...no more headaches with screen time. just perfect

Love them

I love them, I have used a different brand before and it was not as good. I am now sleepy at a normal bedtime.

Excellent glasses for after dark

These glasses are great for usage after dark, they block blue light so there is some colour change while using them.

However they are not as extreme as the red lenses which are not very practical unless under indoor lighting when in use.

The yellow lenses allow enough to "see" while out walking at night (after dark) or around the house after sunset without making it too hard to see...

Michael R.

Verified Buyer

awesome glasses

This glasses are great! good quality frame, good quality lenses, I wear them every evening before bed when I am on the computer, and I haven't had an issue with them at all. they have improved my quality of sleep.

The storage case they come in is also good quality.

100% happy, I am going to get a second lighter pair for when working on the computer.

Mike B.

Verified Buyer

SunDown Elite Glasses

These are quite comfortable and still allow enough colour through to watch TV or work on a computer at night without straining your eyes. Lost one star only because they do leak a little bit on the sides but it is minor

Suzanna T.

Verified Buyer

Effective for bipolar

I bought these glasses to assist with sleep due to the studies indicating their efficacy for bipolar. I am now a convert and love wearing them nightly. They make me feel so relaxed and ready for sleep. No more reliance on melatonin!!

Chris P.

Verified Buyer

Totally worth the cost!

I've been using these every night for weeks now, and I have noticed a definite change in my ability to fall asleep and stay asleep. This is coming from someone who uses screens basically right up to bed time. You don't regret buying a pair of these if you're a screen addict like me!
Reviews Loaded
Reviews Added