Multi-Mode Blue Blocking Sleep Lamp

3 Color Modes

Rechargeable Battery

Travel Friendly & Portable

Brightness Control
The Multi-Mode Blue Blocking Sleep Lamp gives you 3 lamps in one! Easily rechargeable, long battery life, adjustable neck, and variable brightness control. Create the perfect ambiance for optimal relaxation and sleep.
read more
NOBLUE AMBER MODE: 100% no blue light sleep-friendly amber light, warm and relaxing candlelight feel, great for early evening.
SUNSET MIXED MODE: Provides a soothing sunset orange light giving the feeling of reading next to a campfire.
TWILIGHT RED MODE: 100% blue and green light free for the most optimal red light to use late at night, or in the middle of the night.

Free Shipping Over $99

30 Night Trial & Easy Returns
Blue Light Blocking Colour Changing Sleep Lamp
Introducing our Multi-Mode Blue Blocking Sleep Lamp, the perfect solution for those seeking to enhance their sleep and create a relaxing atmosphere in the evening. With its advanced features and innovative design, this lamp is a must-have addition to your nightly routine.
Benefit from the following features:
3 Colour Modes: Experience the power of NOBLUE AMBER MODE, SUNSET MIXED MODE, and TWILIGHT RED MODE. Each mode offers a unique lighting ambiance that helps to eliminate sleep-disturbing blue light, promoting a calm and restful environment.
Easily Rechargeable: Say goodbye to the hassle of constantly replacing batteries. Our sleep lamp is easily rechargeable, allowing you to enjoy its soothing benefits without the need for additional expenses.
Travel Friendly & Portable: Whether you're on a business trip or enjoying a vacation, this sleep lamp is your perfect companion. Its compact size and lightweight design make it effortlessly portable, ensuring you can always create a sleep-friendly environment wherever you go.
100% Blue Light Free: Rest assured that our sleep lamp is specifically engineered to emit zero blue light. By filtering out harmful wavelengths, it enables your body to naturally wind down and prepare for a restful night's sleep.
Fully Adjustable Neck: Customize the angle and direction of the lamp to suit your preferences. The fully adjustable neck allows you to position the light exactly where you need it, providing optimal relaxation and comfort.
Improve your sleep and unwind with our Multi-Mode Blue Blocking Sleep Lamp. It is intended for anyone looking to create a serene environment for better sleep. Simply turn on the lamp in the evening, select your preferred color mode, and adjust the brightness to your liking. Let the gentle and flicker-free illumination guide you into a state of tranquility, signaling to your body that it's time to relax and prepare for a rejuvenating sleep.
Don't compromise on your sleep quality any longer. Invest in our Multi-Mode Blue Blocking Sleep Lamp and experience the benefits of a restful night's sleep like never before. Order now and take a step towards enhancing your overall well-being.
High Quality 100% Blue Light Free Amber / Orange / Red light
Colour Temperature: 1200k / 1400k / 1600k
Flicker Free Technology
Low EMF
Rechargeable 1800mAh Lithium Battery
16 Hours at Low Brightness
Variable Brightness Controller
360 Degree Bendable Neck Cord
USB-C Charging Cable Included
40cm Long, Fully Extended
14cm x 12cm When Rolled Up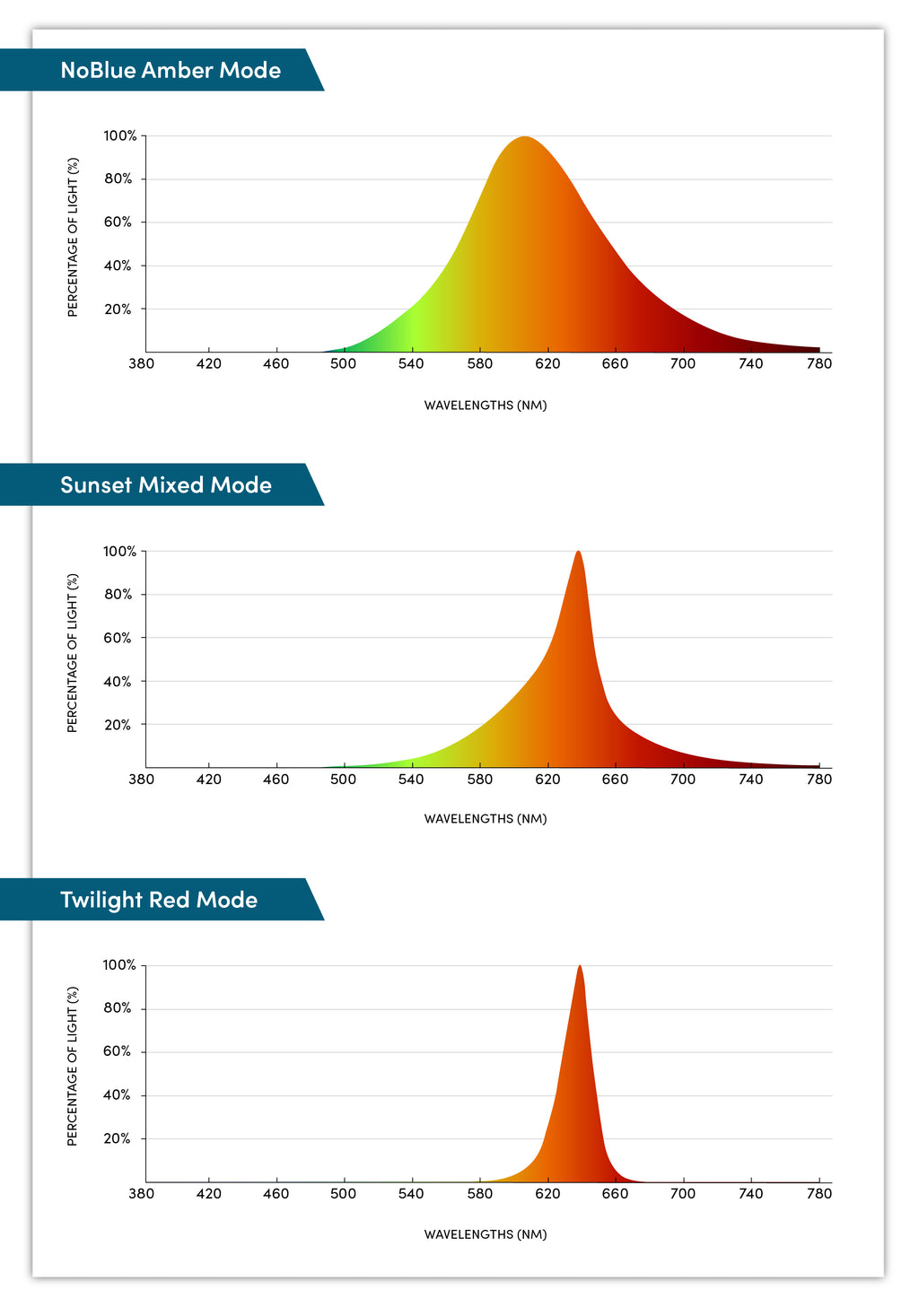 Suited

This light is fantastic, and I'm really pleased with it.

I put it on top of my headboard, so I can read at night, and along with my block blue light glasses, I can certainly notice a difference.

The lamp is so light and versatile.

I've only had it a couple of days, so I will come back and review my sleep patterns.

Gift for a new mother

Bought this as a gift for an expecting friend. I have the amber lamp and absolutely love it. This will be a great tool for her in the nursery and throughout the home. I wish I had one when I had my newborns.

Amazing

Highly recommend. I also take it with me when I travel. Folds easily into the suitcase.

Great lamp and glasses

Together with my bluelightblock glasses I now go to sleep much more easily. I always read on my phone before going to sleep, so these two devices have been most helpful. With the lamp I did wonder about the light I always saw on the ceiling, but eventually realised that it was from the 'On' small green indicator light, so I now cover that loosely!

Multi-Mode Blue Blocking Sleep Lamp

I'm delighted with this little beauty. It's so light and versatile and the multi mode settings are fantastic. I'm particularly thrilled with the red light which I use towards the end of the evening when I'm winding down for bed time. To be able to turn the different colours up or down is another great feature. To leave the setting on low when I turn the lamp off for the evening is great because when I turn it on in the middle of the night it comes on at the low setting and it's sufficient light my way to the bathroom. I highly recommend this Multi-Mode Blue Blocking

Sleep Lamp.

E

In love with this lamp!!

It gives the most cozy, warm, deep tones and has the option of altering the brightness, so you can use it for reading without straining your eyes.

With its cordless feature, it's perfect for people who don't have an available power outlet in a room, as the lamp can be moved around and put anywhere to suit your needs.

The quality is great (doesn't even emit heat after being on for more than an hour), shipping and packaging was great. All in all, definitely recommend! 😊

Different options, multiple variables, perfect mood.

I really like the fact that this lamp provides different options within multiple variables to create the perfect mood. Easy on the eyes and a great benefit to one's body rhythm. Highly recommended.

Great little light

Compact and lightweight making it easy to move around the house. Light settings are dimmable as well as colour changing giving it all the benefits available.

Only downsides is light is touch operated and very sensitive. Can accidently double touch and then it changes to different colour which is annoying especially at 3am going into bub's room.

Also battery could last a little longer.

Bedside Lamp

This has made such a difference to my sleep quality. I find myself winding down so much quicker! The lamps are small and portable and easily charged.

Best bedside lamp ever!

This lamp and changes how I sleep at night. It's so nice to come into a bedroom that has a dim red light right before bed, it has help me fall asleep much faster. I also love have the 3 different modes and dimming affect. Great product! Highly recommend!
Reviews Loaded
Reviews Added