NoBlue Amber LED Strip Lights

100% Blue Light Free

USB Powered

Improve Sleep Quality

Brightness Control
The NoBlue Strip light is the ultimate slim and flexible blue light free light source, powered through a standard USB port and available in multiple lengths.
read more

Featuring a variable brightness controller to create the perfect ambience. Easy install with 3m backing tape.

Low EMF and Flicker Free with multiple lengths available.

Free Shipping Over $99

30 Night Trial & Easy Returns
Amber Blue Blocking LED Strip lighting - USB powered
The NoBlue Strip light is the ultimate slim and flexible blue blocking light that emits no sleep disrupting blue light providing a warm amber ambient light in the home.
The Amber strip light works amazing as a night-light, ambient light, mood light, or back-lighting behind TV's, under beds, above kitchen beeches, or practically anywhere you like!
The NoBlue Amber Strip light is 100% blue light free, has zero flicker, and is low EMF.
Available in 3 different lengths ranging from 0.5m to 2m which comes with a double sided tape backing so you can attach securely onto different surfaces, and for surfaces where the backing tape is not suitable, special clips are supplied to attach the strip light into place.
The strip light offers a wide-spread diffused light which provides fantastic coverage when lighting a small area or room at night. The different lengths and flexibility of the strip allows you to get really creative on how you light up a room.
The blue blocking strip light is powered with a standard 5v DC USB port which can either be a USB wall charger or USB port on a computer, it can even be run off of a USB Battery Bank for truly off-the-grid operation!
The adjustable brightness controller allows to you fully increase or decrease the brightness to find the perfect level of light whilst still remaining flicker free.
*Power adapters or batteries are NOT included.
Colour temperature: 1800k
Power Requirements: 5V DC (Standard USB port)
USB power cable length: 1.7m
Strip light length: 0.5m / 1m / 2m
No. of LEDs: 30 / 60 / 120
Lumens: 80 / 160 / 320
IP rating: IP65 (water proof)
Flicker Free Technology
Peak Wavelength: 585nm
Wavelengths blocked – 100% between 380-500nm
Life: 30,000 Hours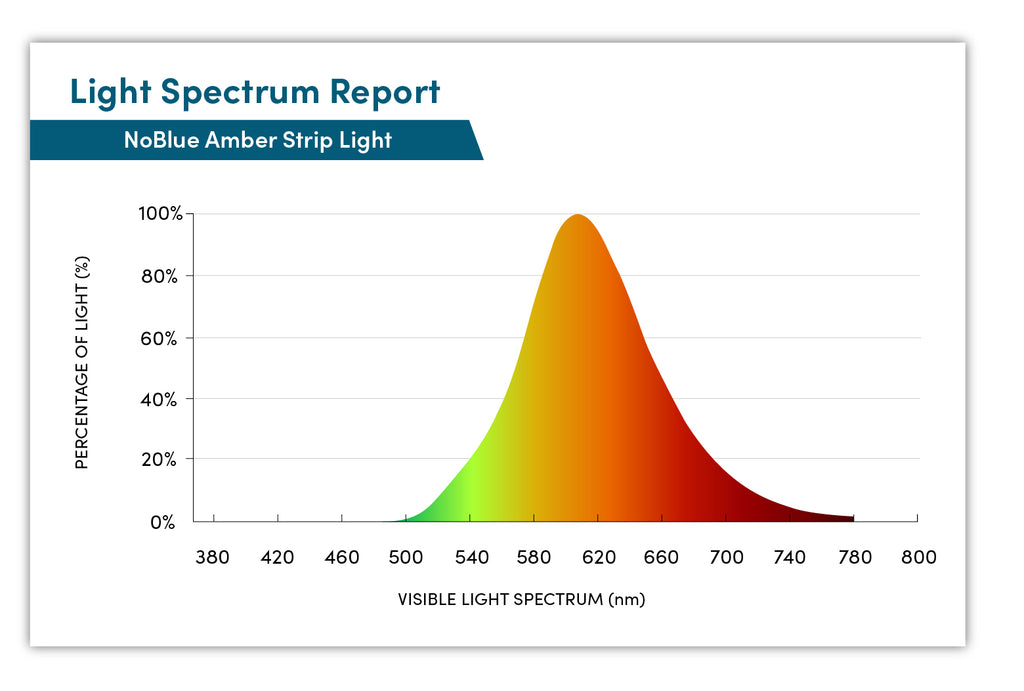 OBSESSED

I am totally in love with this look!! The different settings for mood lighting are fantastic. Perfect lighting for the lounge.

Great product

I love it, I have it now in each room and it makes such a nice and soft feeling in the house! I am going overseas and taking it with me:)

Excellent product!

These light's are great. I installed them in my car. Work's well.

No blue Amber LED Strip Lights

There good. Iam going to put them up in the kitchen under a cupboard for counter use in the evening. Haven't done so yet but I can tell they will work for this use.

Perfect for Camping!

We have set these up under the awning of our caravan. The are much much more relaxing than the usual bright white lighting

Perfect anywhere

I love these so much I've bought more! I put them under the cabinets in the kitchen, bathroom, lounge room - they provide just the right amount of light and look amazing at nighttime.

Great option

I bought these thinking it would be great for my outside patio but it didn't suit. I have installed it above my kitchen window which is perfect for night and morning. Our kitchen has a fluorescent light so this is a great alternative!

fantastic

I am so happy to have delved into the world of blue light blockers and through this company. The No Blue Amber LED strip is wonderful, I have it above my kitchen sink and is the main light source alongside the overhead light for the stove that I use and it is more than enough light for me - I love that it has a dimmer switch but do wish I had bought 2 of the strips so I could very rarely if at all use any other form of lighting. A Fairy light plug in version would be wonderful. I detest any LED or strong overhead lighting and mostly only use low light anyway but these take it to the next level - no flicker - calming soothing - when I can afford it I will have only blue block lighting throughout my house in either amber or red lights. Thank you for the great offering Guys! shipped fast from NZ to Australia too.

A Warm Glow

It's a nice warm glow from these lights. The largest one was still a bit too short for our kitchen but we got two and purchased a connector from ebay to join them.

Love these peaceful lights

Perfect lights, calming and gentle, built in dimmer switch online controls. Perfect in every way.
Reviews Loaded
Reviews Added