NightFall Billie Blue Blocking Glasses - Pearl Grey

Blocks Blue & Green Light

Maximise Sleep Quality

Aligns With Academic Studies

Most Optimal Night-time Glasses
NightFall Blue Blocking Glasses feature our signature blue AND green light blocking red lens. These are the most optimal blue light blocking glasses available for optimising sleep and balancing hormones... read more
Our optical grade red lenses block 100% of blue and green light from 400nm to 550nm. This is the exact range that has been shown in clinical trials to lower melatonin and negatively impact our sleep.

Free Shipping Over $99

30 Night Trial & Easy Returns
Blue AND Green Light Blocking Glasses
Our scientifically-designed-and-manufactured blue and green light blocking glasses not only block blue light but make you look good while doing it!
Featuring our custom-designed Noctural Red 550 Lens, these glasses have been specifically designed and proven to block 100% of blue and green light from 380-550nm.  This is the exact range of blue and green light shown in scientific studies and trials to lower melatonin levels and lower sleep quality.
Its Not Just Blue...Its Also Green...
Green light is right next to blue light on the visible colour spectrum, this means that the "melatonin disruption zone" also extends into the green light range. Green light up to 550nm at night can also send daytime signals to the brain. For optimal night-time protection we need to remove 100% of blue AND green light up to 550nm.
Be careful, as there are many other "blue blocking" glasses on the market that have not been verified to block all the required blue and green light wavelengths which is essential for these glasses to be effective and provide adequate night-time protection!
NightFall glasses use the world's most advanced blue and green light blocking lenses designed for after-dark use, making them much more effective at reducing the harmful effects of blue and green light and improving your sleep.
Noctural 550 Ren Lens: 100% of blue and green light from 400nm - 550nm is blocked
Premium style fashionable frames made with spring hinges
Impact and scratch resistant
Foldable carry case and lens cloth included
Specifically designed to help you sleep by blocking harmful blue and green light that lowers melatonin levels
Use after sunset when you are exposed to artificial light, to enjoy improved quality of sleep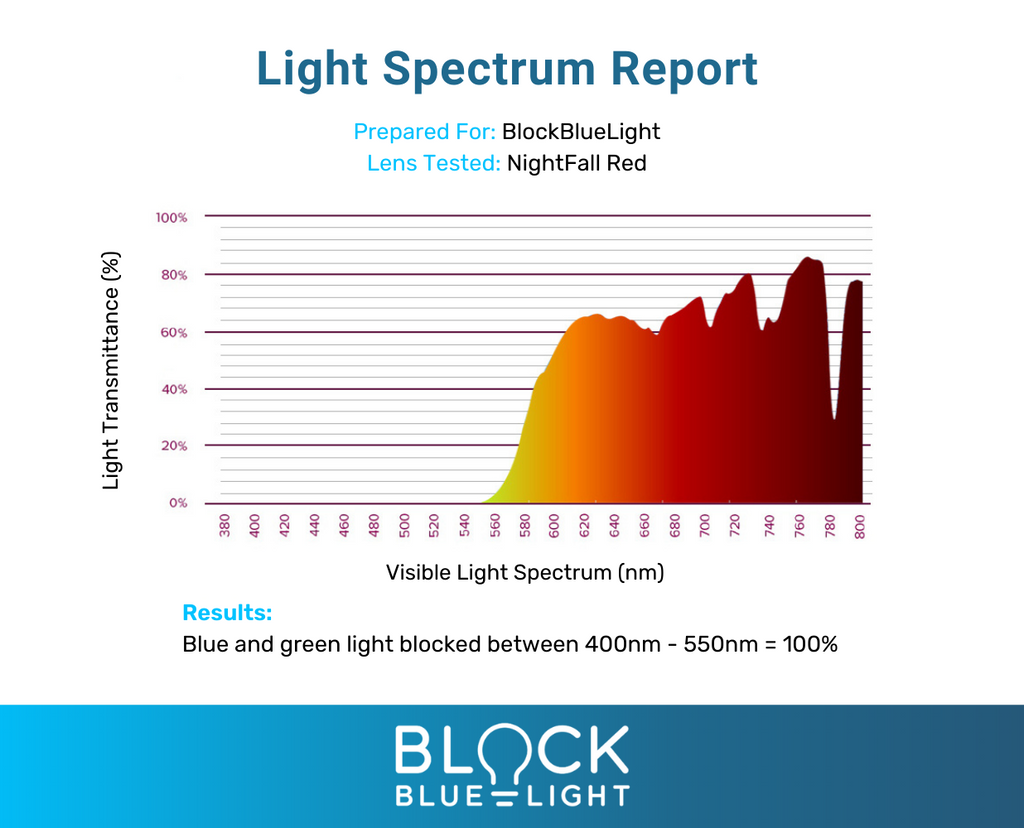 Great blue blockers

These really work well. They are lightweight and comfortable to wear, and I definitely feel more tired on the nights when I wear them.

Melatonin/cortisol balance in check

I've been using these glasses nightly for a few months now and my cortisol balance is in check. I track my sleep and my body is able to get into a restorative state of sleep. TMI my bowel movements are also regular (every morning upon rising!)

top glasses

very good quality and service!!

VR

From Italy: the best!!

Sto usando regolarmente gli occhiali NightFall da ormai 8 o 9 mesi e in effetti non posso più farne a meno!

Mi sono stati consigliati da due farmaciste che fanno divulgazione scientifica online, specializzate in benessere della donna (fertilità, mestruazioni...), a cui mi ero rivolta per una consulenza sulla fertilità.

Stanno svolgendo vari studi in campi di medicina non convenzionale e hanno trovato evidenze scientifiche sull'impatto negativo di massicce dosi della luce blu su vari aspetti del corpo, comprese fertilità e benessere riproduttivo.

Mi sono fidata e ho fatto il mio primo acquisto. Beh, al momento sto aspettando il mio primo bimbo! Ho messo in atto anche altri aggiustamenti del mio stile di vita, ma con enorme soddisfazione posso dire che sono molto più rilassata la sera e sento di fare del bene a tutto il mio equilibrio ormonale!

Ne ho già preso anche un paio di scorta! :)

Happy Customer

Super happy with my new night glasses. Took a few nights to get used to them but now they work a treat making me sleepy at bedtime & assisting with a good night sleep.

Absolutely incredible

Improved my sleep quality so much! Reduced headaches and eye strain

NightFall Billie Blue Blocking Glasses

Love these glasses. The only issue is, now I need to get some with prescription lenses, so I can read in them, because at the moment I slip them on top of my regular glasses 😂.

Great stylish and effective glasses!

High quality glasses! I have a smaller face (I often need small or small/medium frames) and these fit me very well. I find blue light blocking glasses to be a really effective way to help me fall asleep quicker at night and I do notice a huge difference if I don't use them (especially if I am watching TV or using a computer/smartphone). Prior to purchasing these I was using cheaper Uvex construction glasses that also block blue light. I don't have any hard data but they both seem equally effective though BBL glasses seem darker than the Uvex and I assume block more of the blue light spectrum. Highly recommend for quality, fit, and effectiveness!

Amazing!

Amazing product! My sleep has never been so deep and restorative. These are a must have!
Reviews Loaded
Reviews Added