Sweet Dreams Sleep Light Bulb - E12 (Small Screw)

100% Blue Light Free

Relaxing Amber Light

General Purpose Lighting

Improve Sleep Quality
SweetDreams lights are the worlds healthiest light bulbs designed to be used throughout the home, featuring our warm amber spectrum light. Guaranteed to be 100% blue light free, produce zero flicker, and low EMF.

Free Shipping Over $99

30 Night Trial & Easy Returns
100% Blue Light Free Amber Light Bulb
Our Sweet Dreams Blue Blocking Light Bulb is now available in a small edison screw fitting (e12) which is the perfect fit for most common lamps.
These bulbs feature our same proprietary spectrum technology to produce 100% blue light free, zero flicker, low EMF light. There is no other light bulb available that ticks all these boxes for healthy lighting!
We also have our same Sweet Dreams bulb in the larger B22 bayonet and E27 screw fitting to be used throughout the house as your main light source. You can purchase these here
Colour temperature: 1800k
Peak Wavelength: 585nm
Brightness: 500lm (50 Watt Equivalent)
Wavelengths blocked – 100% between 380-500nm
Dimming: Non Dimmable
Input voltage: 110-240v 50/60Hz
Power consumption (watts): 5w
Size: D50mm x H92mm
Base: E12 (screw)
Certifications: CE, ROHS, SAA, RCM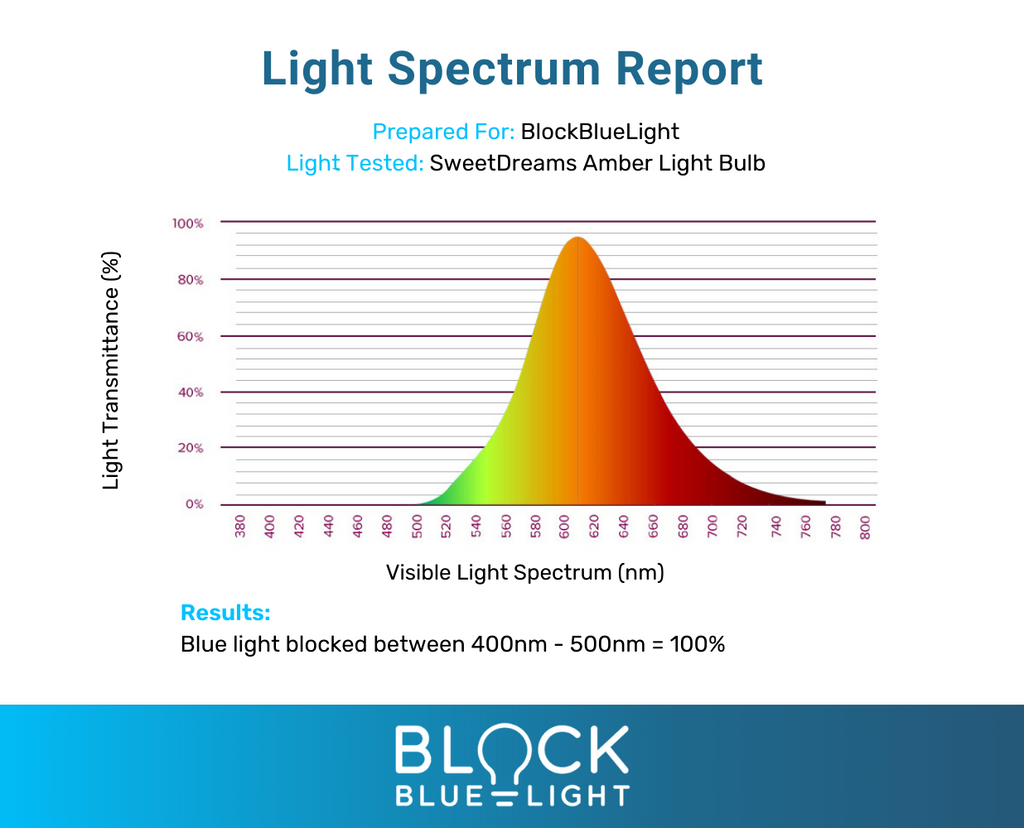 A glowing review

I love the hue this light gives off.

Lovely relaxing light

I love this light. It gives off a really relaxing comforting glow thats different from other warm lights ive tried and sets me (and even the cat) up for sleep. I am converted.

Great light for reading at night

I love the warm light to read at night, my husband said it looks like moonlight

Sweet Dreams light bulb

Gives a lovely cosy warm golden light in the evening but still enables good vision.

Restful light

I notice how much easier it is on your eyes turning the light on at night.

Taken the stress out of night time lighting

I purchased two bulbs; one for my bedside lamp and one for my dining room. Once dinner is over I turn out all other lighting just leaving the two blue block lights on. At first it seemed a bit strange but soon it felt almost like a ritual. I feel calmer for sure and will be changing out some of my downlights around the house when I can. So far very happy with my purchase.

Perfect

Perfect lighting amount for the bedroom

A little sceptical…

I honestly couldn't see how this bulb could help with my sleep patterns but it has.

It's the only thing I have changed in my room and most nights I'm sleeping right through.

Soft lighting

Soft lighting for the evening hours.
Reviews Loaded
Reviews Added