Nightfall Taylor Blue Blocking Glasses - Tortoise

Blocks Blue & Green Light

Maximise Sleep Quality

Aligns With Academic Studies

Most Optimal Night-time Glasses
NightFall Blue Blocking Glasses feature our signature blue AND green light blocking red lens. These are the most optimal blue light blocking glasses available for optimising sleep and balancing hormones... read more
Our optical grade red lenses block 100% of blue and green light from 400nm to 550nm. This is the exact range that has been shown in clinical trials to lower melatonin and negatively impact our sleep.

Free Shipping Over $99

30 Night Trial & Easy Returns
Blue AND Green Light Blocking Glasses
Our scientifically-designed-and-manufactured blue and green light blocking glasses not only block blue light but make you look good while doing it!
Featuring our custom-designed Noctural Red 550 Lens, these glasses have been specifically designed and proven to block 100% of blue and green light from 380-550nm.  This is the exact range of blue and green light shown in scientific studies and trials to lower melatonin levels and lower sleep quality.
Its Not Just Blue...Its Also Green...
Green light is right next to blue light on the visible colour spectrum, this means that the "melatonin disruption zone" also extends into the green light range. Green light up to 550nm at night can also send daytime signals to the brain. For optimal night-time protection we need to remove 100% of blue AND green light up to 550nm.
Be careful, as there are many other "blue blocking" glasses on the market that have not been verified to block all the required blue and green light wavelengths which is essential for these glasses to be effective and provide adequate night-time protection!
NightFall glasses use the world's most advanced blue and green light blocking lenses designed for after-dark use, making them much more effective at reducing the harmful effects of blue and green light and improving your sleep.
Noctural 550 Ren Lens: 100% of blue and green light from 400nm - 550nm is blocked
Premium style fashionable frames made with spring hinges
Impact and scratch resistant
Foldable carry case and lens cloth included
Specifically designed to help you sleep by blocking harmful blue and green light that lowers melatonin levels
Use after sunset when you are exposed to artificial light, to enjoy improved quality of sleep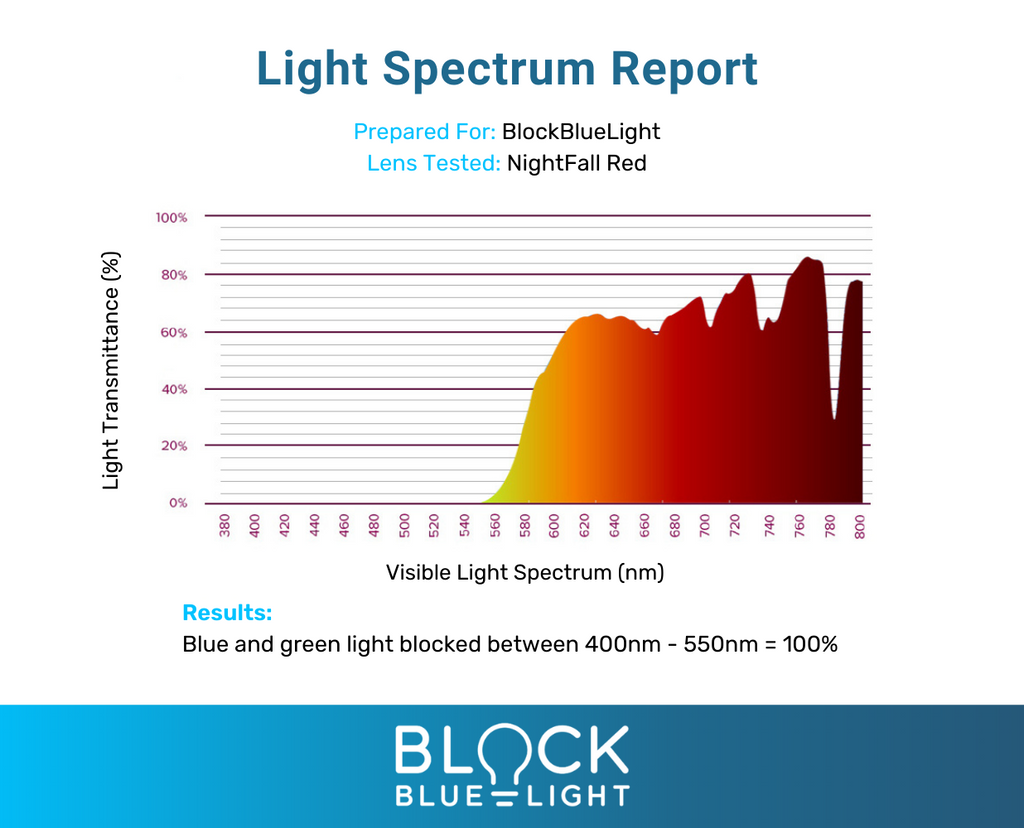 I didn't realise how much they could help!

Glasses are super comfy to wear and definitely block the blue and green wavelengths as if I take them off after wearing them for a while the change almost hurts!

Thanks Block Blue Light 🤩

Quality product

I've bought blue light glasses before that broke easily these look to be quality and look great I'm happy with the purchase

These make you sleepy 🥱

These are so much more effective than the clear ones. Great for working or reading where you don't need to see colour. They actually make you feel sleepy wearing them.

Nightfall Taylor Blue Blocking Glasses - Black

Great. Lightweight. Definitely blocks out blue. Bit big for my face

Nightfall Taylor Blue Blocking Glasses

Loving my new blue light blocking glasses! Very effective at night

AWSOME

Since wearing these at night I find i fall asleep a lot easier and get tired earliier. Just what i needed.

Great glasses for reducing neurological stimulation

Trying to manage and deal with sympathetic dominance, these glasses have been helpful. Particular with night driving and suffering with blinding car headlights, and even traffic lights this has been brilliant. Using any screens at night, I'm using these glasses to minimise stimulation into my nervous system and this in tandem with other things has kept my headaches and migraines less intense and frequent.

Pretty great

I pop these on a couple of hours before sleep sometimes. They help in getting me to sleep quicker

Thanks

I think this is helping me to sleep more deeply.

And the glasses to use with computer use is also helping. I don't seem to have jumpy legs when I try and go to sleep any more.

Glasses

Very nice quality product I can see very clear in orange and very effective results.
Reviews Loaded
Reviews Added