ScreenTime ELITE Computer Glasses

Less Headaches & Eye Fatigue

Reduce Digital Eye Strain

Minimal Colour Distortion

Filters 50% Of Blue Light
ScreenTime Blue Light Glasses combine sleek style with science backed blue light protection. They feature our unique anti-glare lenses for crystal clear vision and minimal colour distortion... read more
The transparency of the optical grade lenses lets in the good blue light responsible for alertness, mood, brain activity and optimal health, whilst filtering out the harmful damaging blue light that leads to digital eyestrain, headaches, and macular degeneration.

Free Shipping Over $99

30 Day Trial & Easy Returns
Blue Light Filter Daytime Computer Glasses
Our ScreenTime Premium Daytime Filter Glasses are specifically designed for those spending significant periods of time during the day in front of screens. They feature our specialised ClearBlue Lenses, designed to filter out harmful, artificial blue light emitted by digital devices and all other artificial light sources.
These blue light glasses for computer use filter 50% of blue light across the entire blue light spectrum (400nm-500nm) to alleviate digital eye strain, sore and tired eyes, headaches/migraines, and blurred vision from both screen time and bright LED or fluorescent lighting in the workplace.
What sets our computer glasses apart from all the other computer glasses on the market is our ClearBlue Lens technology; this filters 50% of blue light at 455 nanometers, which is the most energetic, damaging light emitted from screens, LED's, and other modern artificial lighting. Most other companies supplying clear blue blocking glasses only block 15%-20% of blue light from 400-430nm and do not block any at the 455nm range where it matters the most.
To ensure you have both day AND night protection, we recommend you also use a set of our Night-time Blue Light Blocking Glasses during night-time to ensure deep and restful sleep.
Filters 50% of harmful artificial blue light across the entire blue light spectrum
Premium frame made from high quality, lightweight acetate with durable spring hinges.
ClearBlue lens - providing crystal clear vision without any colour distortion
Stops headaches and migraines, blurred vision, eye strain, and minimises risk of macular degeneration
Smudge proof and water, scratch, and dust resistant.
Minimises blue light impact on your circadian rhythm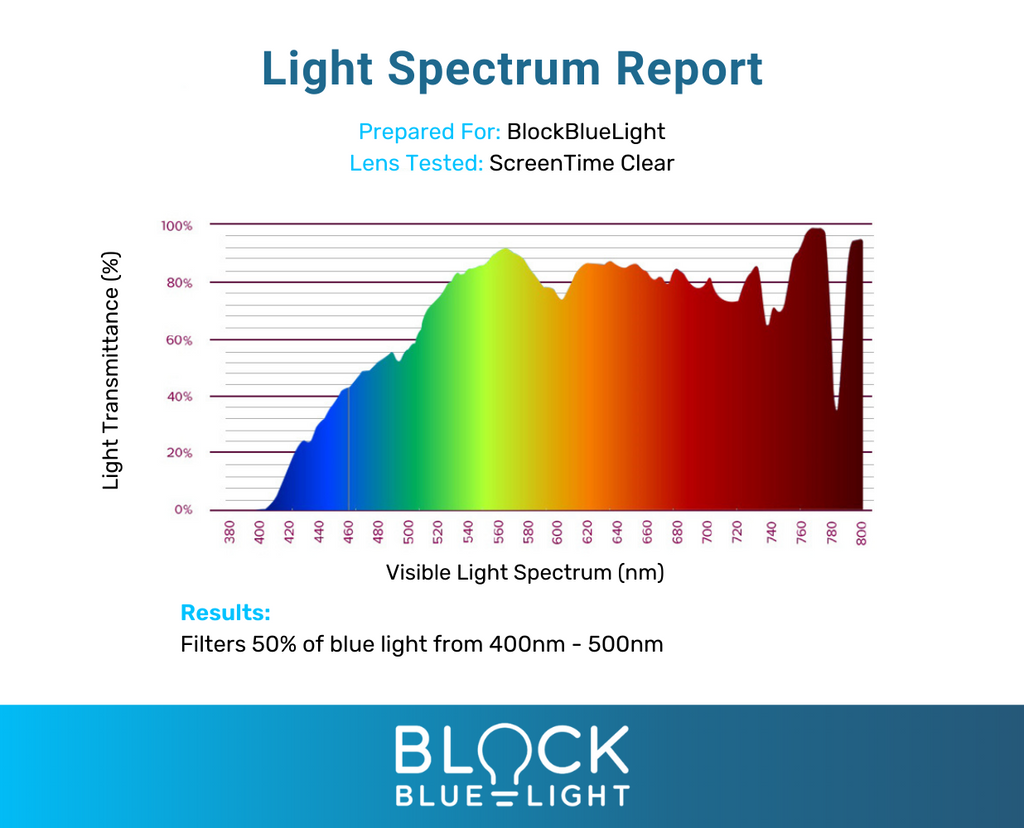 Great quality

Similar to the other elite glasses, the metal frame is nice and sturdy.

Looks great and their is only a slight tint from the lens

very good ScreenTime ELITE Computer Glasses

fast service and delivery, great glasses they work well and comfortable, sleeping great now and I would definately recommend them

Stops headaches and dry eyes

Loved what they did for my eyes but the style was too big, unfortunately. Sent them back to swap for the Billie style and am very pleased with both the glasses and the speed of delivery.

Dishant's review

These specs are fantastic for daylight time while one is working indoors. I would rate these the best blue light glasses I have ever had. Built is also rich and made from quality materials. The comfort it provides is oustanding.

Great service...and great glasses!

I already had a pair of blue light glasses from another provider but the frames were plastic and broke after a fairly short time frame. In addition, the lenses were hard to clean

I then ordered a pair of Block Blue Light glasses from Daniel and his team. The glasses are excellent, much more sturdy, easier to clean and they provide much better vision

The service from Daniel and his team was great, and I highly recommend both them and their products!

Cheers

Tony, Melbourne

Matthew R.

Verified Buyer

Great glasses

Brought these as a result of eye strain and headaches, as I work full time on pc.

They were great and seemed to have stopped my troubles I was having.... well until today.

Today our 11 week old puppy decided to take them off the coffee table and chew my month old glasses... he is not popular today!

Hailey B.

Verified Buyer

So glad I bought these!

These are great for reducing the fatigue in eyes. I noticed straight away that my eyes were not so tired. I use them for computer, phone and tv, so the price has proven excellent value for money! I recommend to anyone who is online for their work.

melissa de la C.

Verified Buyer

Great screen glasses, worth every cent!

I just love the glasses and the service was wonderful. These glasses are the best for daytime protection and worth the premium

Emily S.

Verified Buyer

headaches and eye strain now gone!

Really good, I'm having less headaches and eye strain has completely gone. Useful for watching tv too

Nadine K.

Verified Buyer

All day computer use

These are great - I can tell when I haven't been using them!!
Reviews Loaded
Reviews Added