DayMax Clip-on Glasses

Maximum Daytime Protection

Assists With Light Sensitivity

Reduce Migraines & Headaches

Reduce Eye Fatigue
DayMax Glasses provide MAXIMUM protection against blue light during the day by eliminating 100% of the harmful blue light emitted from screens, devices, and lighting, while still allowing all the essential beneficial light though responsible for positive mood, energy, and focus... read more
The DayMax light yellow lenses are ideal for people who are light sensitive, suffer from migraines and eye strain, or are indoors under harsh lighting and use screens and devices all day.

Free Shipping Over $99

30 Day Trial & Easy Returns
Our DayMax Blue Light Glasses are specifically designed for those having significant exposure to artificial blue light during the day, they feature our specialised light yellow lenses which provide maximum blue light protection, while still helping you maintain your energy and focus when you need to feel and perform your best.
The light yellow DayMax lenses filter 70% of blue light across the entire blue light spectrum (400nm-500nm), providing maximum protection to eliminate light sensitivity, migraines, eye strain, sore and tired eyes, headaches/migraines from both screen time and bright LED or fluorescent lighting in the home/workplace.
The DayMax lens uses propriety filtering technology to block 100% of blue light in the lower range of 400 - 455 nanometers; this is the most energetic and damaging light emitted from screens and lighting. More importantly it still allows all the beneficial blue light through still which is in the later part of the spectrum from 455-500nm, this blue light is essential during the day for optimal hormone production, energy, positive mood, and motivation. 
To ensure you have both day AND night protection, we recommend you also use a set of our Night-time Blue Light Blocking Glasses during night-time to ensure deep and restful sleep.
Filters 70% of harmful artificial blue light across the entire blue light spectrum
Blocks 100% of harmful blue light from 400-455nm, then allows all beneficial blue light through from 455nm-500nm
Premium frame made from high quality, lightweight acetate with durable spring hinges.
DayMax light yellow lens - made with optical grade CR-39 to provide highest visual acuity
Stops headaches and migraines, blurred vision, eye strain, and minimises risk of macular degeneration
Daytime lens designed to provide maximum blue light protection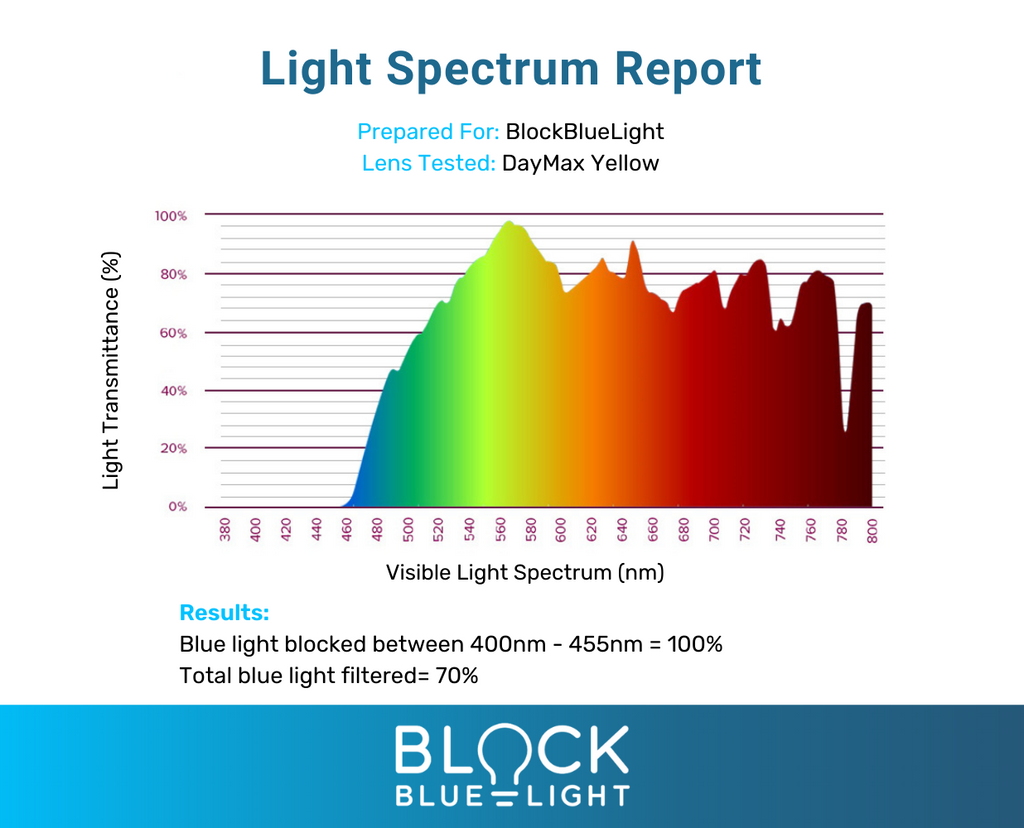 Nice Clip ons

They fit my glasses well and are great for daytime use. Very lightweight, but slightly flimsy.

You have to be very careful not to drop them. Unfortunately I dropped mine on the first day, and now have a small mark in my field of vision that is quite distracting, so if you are clumsy like me, maybe go for a fit over version

Daymax

They work, easier on eyes for sure if you can get used to color change on screens. I'd rather do that then have a headache.

Brighter World with sun-tinted specs.

Used for daytime and dusk with no loss of definition. Happy with purchase.

Great

Easy to use, less bulky than fit overs.

Soothing Eye Protection

I wasn't sure how the colour of the lenses would affect the quality of my vision, but am really enjoying the relaxing effect, which doesn't interfere with quality of sight at all for me. I have two pairs of glasses, so purchased day and night lenses, and leave them on my glasses so that I am consistently protected. My eyes feel less inflamed, which is an important result.

Positive feedback

I have been wearing my yellow blockers in the office and the difference how I feel at the end of the day is one to a hundred!

No more sore eyes and headache!

Thank you so much

CW

Clip on glasses

These are great. Comfortable, light, easy to clip on and off. They each come with a protective case This site was recommended by my opthalmologist, ranked top in his field. I purchased one of each and wear them every day. It is the best investment I ever made. Customer service is amazing!

BrianW Godfrey

If you are wearing spectacles for vision, these are ideal for watching TV at night to prepare for the nights sleep

DayMax Clip on Glasses

They are so easy to wear. I see very clearly with them on, and they make the computer and phone screens so much easier to use. I don't ever want to take them off!

Caelon B.

Verified Buyer

Awesome

I wear this all day everyday when inside the office and infeont of screens. They are comfortable to wear around and I get comments saying "those are cool!".
Reviews Loaded
Reviews Added